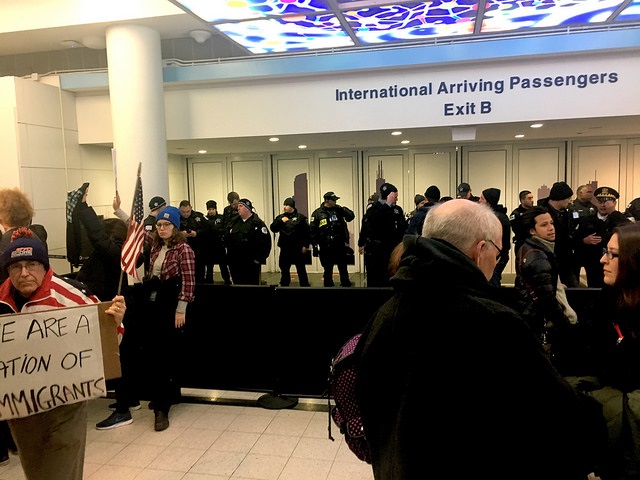 The Supreme Court this morning in a split 5-4 decision ruled President Trump's travel ban against Muslims is constitutional.
This is the White House's third attempt at a travel ban and the only one to be upheld.
Chief Justice John Roberts wrote in the majority opinion that the ban fell "squarely" within the president's authority, reports CNBC It rejected claims the ban was based on religious bigotry or hostility.
Roberts concluded the White House showed a "sufficient national security justification," but added "We express no view on the soundness of the policy," according to Reuters.
Under the current bank, immigrants, refugees, and visa holders from Iran, Libya, North Korea, Somalia, Syria, Venezuela, and Yemen are banned from entering the US.
"This juncture in U.S. history is an ideological juncture–and it is one that has to contend with the histories of oppression that have marginalized and disenfranchised our communities for decades," said Suman Raghunathan, Executive Director of South Asian Americans Leading Together, said to AsAmNews.

"We at SAALT choose and have always chosen, to build a nation where families are not torn apart, where children are not detained in cages, where differences are not criminalized for partisan gain. Today as hate separates families and places our communities at the cross hairs of hate, we vow to continue the fight for justice, dignity and full inclusion."
In a surprise move, the justices in this same case took time to formally overrule the Korematsu decision, the Supreme Court case which ruled the incarceration of Japanese Americans was constitutional.
In her minority opinion, Justice Sonia Sotomayor deplored the majority and compared the decision to Korematsu v U.S.
That angered Chief Justice Robert, and according to CNN, Roberts replied by declaring "Korematsu was gravely wrong the day it was decided, has been overruled in the court of history, and — to be clear — 'has no place in law under the Constitution."
Civil rights advocates, however, were not moved by the Korematsu decision.
Elizabeth Wydra, the president of the Constitutional Accountability Center, called it "frankly a cynical ploy to try to provide cover for a decision that is a betrayal of constitutional rights and values that were similarly rejected in the Korematsu case."
Don Tamaki, an attorney in San Francisco, concurred, saying to CBS San Francisco that while he applauds the decision on Korematsu, he urges advocates to continue the fight to over the travel ban.
"For those who think that this decision is terrible and irrevocable, it's not that," Tamaki said. "And for the Trump supporters and Trump himself who thinks this is a victory, it's not that at all,"
"Although it strongly repudiates it, today's Supreme Court ruling does not learn the lessons of the Fred Korematsu case," said John C. Yang, president and executive director of Asian Americans Advancing Justice | AAJC, said in a statement to AsAmNews. "The Korematsu case represented a failure of the courts in testing what turned out to be false and unsubstantiated claims about a group of people based on nothing more than national origin. Given this president's clear animus toward Muslims, his power cannot be unchecked. All Americans should stand up to reject bigoted and racist agendas."
"In affirming President Trump's bigoted Muslim Ban, the Supreme Court has given a green light to religious discrimination and animus," said Farhana Khera, executive director of Muslim Advocates. "Not since key decisions on slavery, segregation in schools, and Japanese American incarceration, have we seen a decision that so clearly fails to protect those most vulnerable to government-led discrimination.
Since the Muslim Ban was allowed to go into effect late last year, the administration has separated families and loved ones; and denied people opportunities to work, travel, study, seek medical care, and better our nation, simply because of what they believe and where they come from. This decision puts the basic rights of all Americans at risk."

watch for updates
"The Court's decision today will be judged harshly for its unquestioning acceptance of a discriminatory policy motivated by religious bigotry." said Margaret Fung, Executive Director of the Asian American Legal Defense and Education Fund.
AsAmNews has Asian America in its heart.  We're an all-volunteer effort of dedicated staff and interns.  Check out our Twitter feed and Facebook page for more content.  Please consider interning, joining our staff or submitting a story.