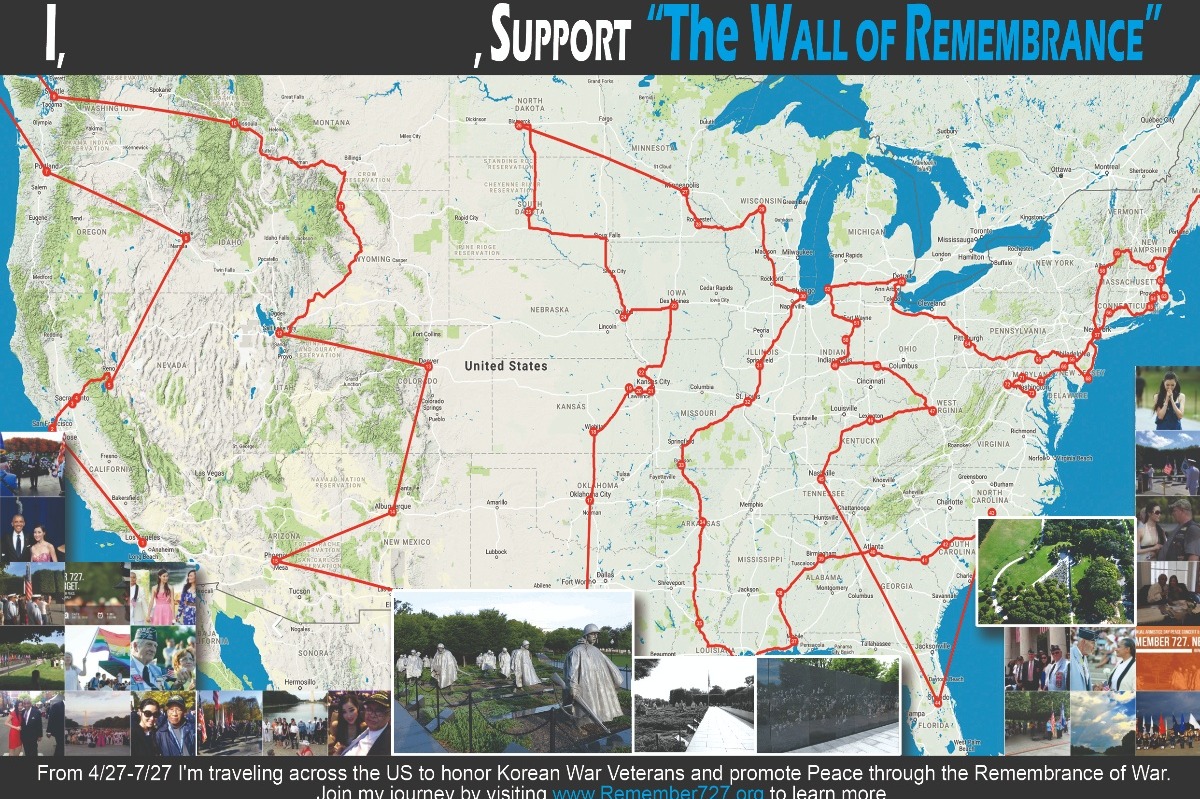 Los Angeles resident Hannah Y. Kim,  is at the end of her three-month journey to visit all 50 Korean War memorials. She's been traveling across the country since April, giving thanks to local veterans in all fifty states.
Yesterday, she reached her 41st state — New Hampshire. From there, she'll head north to Maine before looping back south to visit Massachusetts, Rhode Island, Connecticut, New Jersey, Delaware and Maryland. Her last stop will be Washington D.C. for Armistice Day on July 27.
"This is my 41st state, so I am on my last leg of my journey across America to honor veterans, you and promote peace," she said at the local ceremony, as reported by the Nashua Telegraph.
Though most of the veterans in attendance served in the Korean war, some had fought in the Vietnam war as well. Kim handed out small pins of the American flag in thanks.
"I'm Korean-American, and when I was 22, I almost died from a car accident," Kim said. "I believe that many of you who served, especially in combat and have sadly seen many of your brothers in arms not return, but you returned. There's some sense of duty to honor them and to live a life that is a little bit larger than just yourself."
Kim hopes to build awareness and support for the "Wall of Remembrance" — a proposed addition to the Korean War Memorial in Washington D.C. First proposed by then-President Barack Obama in 2016, the new memorial is still in need of private funding. Kim was inspired to visit veterans across the U.S. after she spent four months in 2017 visiting Korean War memorials around the world for Congressman Charles Rangel (D-NY).
At every ceremony, she refers to each veteran as her grandpa — it's a term of gratitude, rather than age.
"It's not because you're old, but it's because, literally, if you didn't fight in Korea, almost 70 years ago, I wouldn't be here," Kim said. "That isn't my opinion, that is a fact."
AsAmNews has Asian America in its heart.  We're an all-volunteer effort of dedicated staff and interns.  Check out our Twitter feed andFacebook page for more content.  Please consider interning, joining our staff or submitting a story.