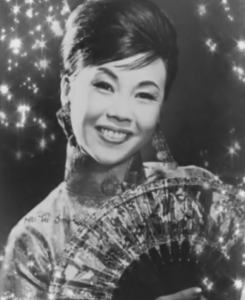 Hollywood is mourning the loss of Chinese American entertainer Mai Tai Sing. Sing was an actress, dancer, and nightclub impresario based in San Francisco and Honolulu. According to the Los Angeles Times, she died in Honolulu on July 11 at the age of 94 after a long battle with heart disease.
Sing was born Mae Tsang on Dec. 22, 1923. She began her career as a chorus girl at the Forbidden City nightclub in San Francisco that featured all-Chinese shows. It was a remarkable feat, considering that Sing had no prior dancing experience prior to working at the nightclub.
Sing later left the nightclub to tour the country with her husband and dance partner Wilbur Tai Sing. The couple went on to have two children but divorced in 1954.
During the 1950s, Sing began to appear on TV and film. According to Deadline, Sing forged her acting career during a time period when there were few Asian Americans working in entertainment. Sing appeared on shows like Hong Kong and Hawaii Five-O. She appeared in the 1951 film The Golden Horde and starred alongside Jeffrey Hunter in the 1966 film Strange Portrait.
In 1976, according to the Los Angeles Times, Sing took her career to Hawaii. She worked as the hostess and manager of a jazz bar at the Hyatt Regency called Trappers.
Throughout her long career, Sing helped clear a path for other Asian American actresses by refusing to adhere to stereotypical roles that portrayed Asian Americans as exotic foreigners who struggled with English.
"Back then, many of the Asian characters, whether they were American or not, had to speak with broken pidgin English, as if they were forever foreign, but not Mai Tai Sing," Arthur Dong, who featured Sing in his documentary and book on Forbidden City, told the Los Angeles Times.
Sing also broke the stereotypical mold of an Asian woman in her work at Forbidden City.
"What she and other performers in the Chinatown nightclubs did was fight racist preconceptions of what Asian Americans were about and what they could accomplish," said Dong. "They were pioneers that struggled for inclusion and paved the way for what we are witnessing today."
Sing helped pave the way for many of the Asian American actors and actresses working today. Her Los Angeles Times obituary notes that, fittingly, Sandra Oh became the first Asian American woman to be nominated for an Emmy the day after Sing's death. Her work will continue to be an inspiration to other aspiring Asian American entertainers for years to come.


AsAmNews has Asian America in its heart.  We're an all-volunteer effort of dedicated staff and interns.  Check out our Twitter feed and Facebook page for more content.  Please consider interning, joining our staff or submitting a story.