Made in Chinatown: Portland is the first exhibition to be displayed in the recently opened Portland Chinatown Museum.
Featuring work by Dean Wong, a nationally recognized Chinese American photographer, Made in Chinatown: Portland displays a collection of 22 images offering a dynamic, nuanced look at how gentrification has changed the cultural landscape of the community.

Over the past two years, Wong has made trips to Portland's Chinatown to document its current state. During his first visit, he was struck by the lack of vitality that Chinatown had to offer.   He told Oregon Live that "there doesn't seem to be a whole lot going on."

It wasn't until Wong started speaking to local business owners that he finally recognized how valuable the remnants of Chinatown still were to its remaining occupants. "They're all very proud that this is Chinatown, not Southeast 82nd," Wong said to Oregon Live.

Lining the museum's walls, Wong's photographs showcase a combination of black and white, and color images that depicts a "historic district in transition". Photos are accompanied by stories reflecting the living conditions of Chinatown's remaining residents. Quotes by the people he photographed are included as well; according to Asian Reporter.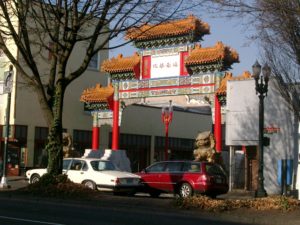 A photo of Sophie Li, the owner of Golden Horse restaurant, is supplemented by quotes that convey her thoughts on how Chinatown has changed.
"Before there was a lot of people living here", the quote reads. "In the old days, lots of Chinese people. Chinatown was more busy. More Chinese people came down here."
Some photos offer a deeper look into the magnitude of Chinatown's gentrification. What was once the second-largest Chinatown in the West Coast is now devoid of Chinese residents.
One photo proclaims that only seven Chinese residents currently live in Chinatown. The story accompanying the photo explains that the remaining Chinese residents live in rooms at the Gee How Oak Tin Association, where a single kitchen and bathrooms are shared.
Despite the somber, placeless expressions of Chinatown, Wong's photographs also depict the vibrant culture that the neighborhood still has to offer. Colorful images of lion dances, opera groups, and traditional Chinese family dynamics are displayed.
Although Wong is cynical about the survival of Chinatowns in the United States, he remains optimistic that the Portland Chinatown Museum will succeed in preserving the former neighborhood's historical legacy.
"It's very fragile. You've got developers out there, ready to sink their teeth into this, and they don't care about the history," Wong said to the Asian Reporter. "I want the community in Portland to come and support this museum. Be a member, encourage your friends to be members, encourage your children to go to school and tell their teacher about this museum so they can come down for a field trip and learn … to share the Chinese culture and history."

AsAmNews has Asian America in its heart.  We're an all-volunteer effort of dedicated staff and interns.  Check out our Twitter feed and Facebook page for more content.  Please consider interning, joining our staff or submitting a story.