Three Democratic candidates for governor seek to bolster their campaigns the week before Michigan's August 7 Primary.
A new poll released by Michigan Information & Research Service (MIRS) shows Gretchen Whitmer pulling ahead of Shri Thanedar and Abdul El-Sayed to represent the Democrats.
The poll found Whitmer with 40 percent of likely voters, while Indian American Thanedar and Muslim American El-Sayed landed at 19 and 17 percent.
Thanedar, a self-made millionaire has donated about $11.41 million to his campaign for a late push in advertising. Thanedar said most of that money is from his personal savings that he has earned by "working hard, building small businesses and creating jobs."
"This campaign is about diverse people coming together to break the corporate chokehold on our politics," said El-Sayed. "It's fueled by the contributions of grassroots donors and the hard work of over 4000 volunteers – a people-powered movement that has been doing the work of democracy in communities across the state.
El-Sayed received the endorsement of Alexandra Ocasio-Cortez. the new progressive hero since she won her primary against the incumbent in New York. She did a tour of the state stumping for him last weekend.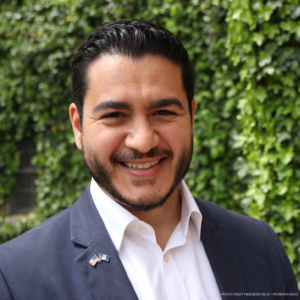 He hopes a pair of rallies with Bernie Sanders in the coming days will help energize his grassroots campaign to get out the young progressive voters seeking a change from the traditional Democratic party represented by Whitmer.
The MIRS poll shows Abdul in a very competitive position with stronger support among voters of color than any other candidate in the race, His campaign believes the poll over-sampling older white voters (in particular union members) and under-sampled young voters and voters of color, in particular Arab American voters in the state with the largest per capita Arab American community in the country.
Whitmir, who has raised the biggest warchest, is running a series of ads questioning Thanedar's professed progressive qualifications.
Meanwhile, on the Republican side, the poll found the state Attorney General Bill Schuette leading Lt. Governor Brian Calley by a margin of 45 percent to 16 percent.
MIRS also asked voters from both parties and independents who are likely to cast a ballot in the general election who they would choose in head-to-head match ups between Thanedar and Scheutte, and Whitmer and Schuette. That found Schuette at 37 percent in both surveys, and Whitmer and Thanedar at 42 and 40 percent, respectively.
(Editor's Note: An earlier version of this story incorrectly stated Thanrdar's contribution to his own campaign.)
AsAmNews has Asian America in its heart. We're an all-volunteer effort of dedicated staff and interns. Check out our Twitter feed and Facebook page for more content. Please consider interning, joining our staff or submitting a story.