By Akemi Tamanaha
Americans often think of different things when they hear the words "Chinese food" or "Japanese food." Some hear the words "Chinese food" and think of Panda Express or P.F. Chang's, while others think of chop suey or dim sum. When Americans think of Japanese food, some hunger for colorful sushi rolls with several spicy sauces, while others desire nigiri, a simple piece of fish on rice.
Those mixed meanings are representative of the long history of Chinese and Japanese cuisine in America. A new book called Chop Suey and Sushi from Sea to Shining Sea seeks to teach others about that history. The book is a collection of essays that discuss local histories of Chinese and Japanese restaurants in America and the politics of the cuisines.
Dr. Raymond Douglas Chong, one of the editors, has spent the past few weeks promoting the book, which is a collaborative effort between Dr. Chong, Dr. Bruce Makoto Arnold, and Tanfer Emin Tunc. Dr. Chong spoke to AsAmNews about the process of developing the book. While discussing the histories within the pages, he also reflected on the process of discovering his own family history, which is tied to chop suey.
A long family history tied to chop suey
With the restaurant industry as its focus, Chop Suey and Sushi from Sea to Shining Sea chronicles years of Chinese American and Japanese American history. Dr. Chong, who is a sixth-generation Chinese American, and his family are a part of that history.
According to Dr. Chong, his great-great-grandfather was one of the first sojourners to come to America from Hoyping (also known as Kaiping), a southern county in the Guangdong Province of China during the Gold Rush era. From 1865 to 1869, he worked on the transcontinental railroad which stretched from California to Utah. Dr. Chong's great-grandfather was a successful businessman in Chinatown involved in the gambling and opium businesses.
Chop suey entered Dr. Chong's family history two generations before he was born. His grandfather worked at a chop suey restaurant in Boston and later became the owner of a chop suey restaurant in Cambridge, Massachusetts, called Imperial Restaurant.
He later went on to work at a well-known chop suey restaurant called Far East Café, located in Little Tokyo, Los Angeles. It was owned by Dr. Chong's relatives. His grandfather worked there casually later in his life, but his father worked at the restaurant as a waiter from 1950 to 1974.
"And an unusual aspect of Far East Café was that it was in the heart of Little Tokyo in the Nikkei community of the Southland, and they customized their food to make it look pleasing and the taste to fit the Nikkei palate," Dr. Chong said. "So it's not just a pure institution for the Chinese Americans, but the Japanese Americans too. That's why it's so special; it's not just a chop suey café, it's both for the Chinese and Japanese to eat together, live together, work together."
Far East Café, which opened in 1935, stayed in business for decades, but it fell victim to the San Fernando Earthquake in 1984. It took years to find the money to rebuild the restaurant. By the time it reopened in 2006, Dr. Chong says, the family had moved on to other ventures. Several other entrepreneurs took over and rebranded the restaurant.
Dr. Chong says his family members no longer work in the restaurant industry.
"They moved on and most of them are dead now, so they're not around anymore," Dr. Chong said. "They're succeeding generations; all became professionals or white collar jobs. They went beyond restaurants, chop suey."
The journey to rediscover his family history and writing about the Chinese American Experience
Like his relatives, Dr. Chong was one of the many Chinese Americans who moved away from the restaurant industry and onto other career paths. He graduated from USC in 1977 with a Bachelor's degree in civil engineering. He earned his Master's degree in civil engineering from San Jose State University in 1988. His professional life, he says, has been in civil engineering since his graduation from USC.
How, a person might ask, does a civil engineer begin writing articles for academic journals about Chinese American history or Asian American restaurants? For Dr. Chong, the journey to begin writing and rediscover his family history began on January 30, 2003, the day his close friend Thomas Killip killed himself. Before that time, Dr. Chong recalled, he did not think much about his family heritage.
"Before that, I didn't think much about my heritage, whether it was being Chinese," Dr. Chong said. "I thought I was American, white-washed, banana."
He said that his friend's suicide sparked a significant paradigm shift in how he looked at life. He began to look inwards at his own family history.
"Up to January 30, 2003, the only clue I knew about my family history were a bunch of black and white pictures in a shoebox with some mystery figures, personalities," Dr. Chong said. "It was cute but I had no clue what was the concept of Asian relations, of my family struggles and sacrifices."
He began to talk to relatives about their experiences and their parents' experiences. Fortunately for Dr. Chong, he still had several family members he could speak to.
"Well in my case, I was lucky," Dr. Chong said. "By the time I started my journey in finding my roots there were still people, relatives still alive from that old era and I was able to talk with them about their memories about the food, about the people."
He also used newspaper articles and archival documents to retrace his lineage. He reviewed several documents that were created because of the Chinese Exclusion Act.
"Because of the Chinese Exclusion Act of 1882 we were demanded to have identification papers," Dr. Chong said. "Every single Chinese, of 100,000 Chinese had a file, an exclusive file on them and there were records of interviews, pictures of their lives, whether they owned a restaurant through the Chinese immigration files."
Dr. Chong published what he thinks is his most "definitive" article in 2008 in the Gum Saan Journal for the Chinese Historical Society of Southern California. The article was called Gim Suey Chong: His Life from Hoyping to Gum Saan. It discussed Dr. Chong's family history through the lens of his father's life.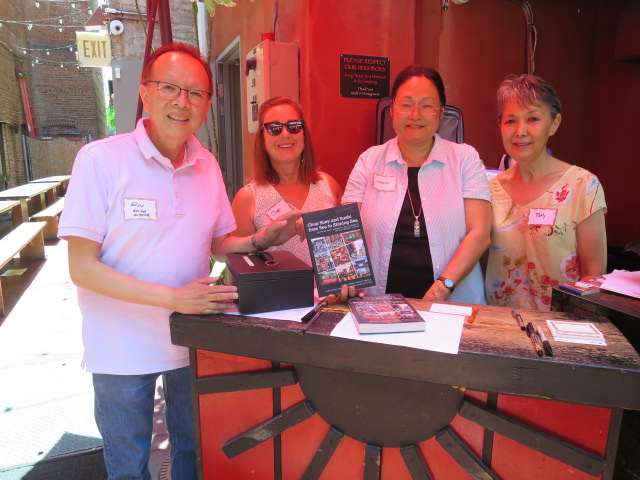 A Far East Café reunion: Developing Chop Suey and Sushi from Sea to Shining Sea
Around the same time Dr. Chong published his article in 2008, a relationship formed that would later lead to the development of Chop Suey and Sushi from Sea to Shining Sea. In 2008, Dr. Chong held a Far East Café reunion, a gathering of old patrons and workers who came to share traditional chop suey dishes and fond memories of Far East Café. Dr. Bruce Makoto Arnold, another editor of the book, was one of the attendees.
Dr. Arnold had heard of him and the writing he had done on chop suey. It was this reunion that helped bring them together to develop their new book, inspired by Dr. Arnold's interest in the history of chop suey.
"Well, [the idea] was actually the brainstorm of Dr. Bruce Makoto Arnold," Dr. Chong said. "He is kind of rooted with the Far East Café too, and it was his interest with others about the impact of chop suey as well as sushi cuisine in the American scene and the roots, the vocations, why chop suey was such a big thing for the Chinese."
While developing the idea, Dr. Arnold contacted a Turkish professor named Tanfer Emin Tunc who was also interested in the subject. Together they brought in Dr. Chong as the book's third editor.
The three have spent the past several years compiling and editing essays for the book.
"Dr. Arnold contacted a series of well-known authors, writers, and essayists and covered different topics of chop suey and sushi all across the country," said Dr. Chong.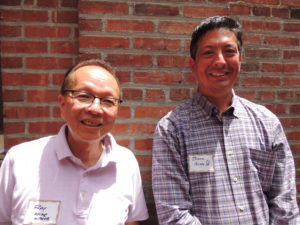 In total, the book is a collection of 14 essays that span several different topics relating to chop suey and sushi. One author, Dr. Chong says, specialized in collecting menus from Chinese restaurants across America. Another author wrote about how chop suey was used as a ticket to bypass the Chinese Exclusion Act, which allowed business owners to stay in America. Dr. Chong also wrote an essay for the book called Chop Suey: A Personal Legacy of Cantonese Chinatown Cuisine. Dr. Arnold and Professor Tunc also contributed essays to the book.
"So it's an eclectic series of articles all across different sections, different ideas not one singular [idea]," Dr. Chong said. "It's like a stew."
While putting the book together, Dr. Chong said it was the variety of stories that most surprised him.
"Especially the story of chop suey in Wisconsin. Who could think of chop suey in Wisconsin, how they get there and the fame of that particular restaurant?" said Dr. Chong. "And the other guy who was a serial collector of Chinese American cuisine, that was pretty fascinating too. And then stories about the Japanese restaurants in Tucson in the 50s, 60s, and 70s. So I've had a blast, not just investigating chop suey but different aspects of all types of chop suey and sushi across America."
The second Far East Café reunion: Looking forward to the future
The University of Arkansas Press published the book in mid-June. On Saturday, July 21, Dr. Chong and Dr. Arnold held a book launch party at Far Bar in Little Tokyo, Los Angeles, where the old Far East Café used to be. The memories that linger in Little Tokyo and in other places where chop suey restaurants used to be are slowly becoming all that's left of what Dr. Chong believes is dying culinary art.
AsAmNews asked Dr. Chong what he envisioned for Asian restaurants in America in the next few years.
"Well, definitely there will just be P.F. Chang's everywhere and Pei Wei everywhere and Panda Express everywhere," Dr. Chong said. "That's the American view of Chinese food, but so-called authentic chop suey, I think by the next 20 or 30, it will be a dim memory except for one or two chop suey restaurants. Maybe one that will be hanging around will be the other Far East Café in San Francisco Chinatown."
Dr. Chong believes, however, that the memory of chop suey and the history of its restaurants will persist. He says that, although history and trends move fast, there will always be historians and people like himself and Dr. Arnold who will help keep the stories alive.
AsAmNews has Asian America in its heart.  We're an all-volunteer effort of dedicated staff and interns.  Check out our Twitter feed and Facebook page for more content.  Please consider interning, joining our staff or submitting a story.