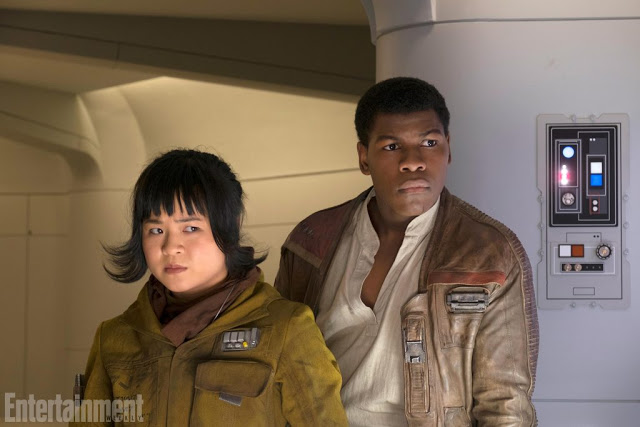 Racists and misogynists bullied her off Instagram and for the first time since she left that social media site, actress Kelly Marie Tran is speaking out.
"Their words seemed to confirm what growing up as a woman and a person of color already taught me: that I belonged in margins and spaces, only valid as a minor character in their lives and stories," Tran wrote in an essay for the New York Times.
"And those words awakened something deep inside me ― a feeling I thought I had grown out of," she continued. "Their words reinforced a narrative I had heard my whole life: that I was 'other,' that I didn't belong, that I wasn't good enough, simply because I wasn't like them. And that feeling, I realize now, was, and is, shame, a shame for the things that made me different, a shame for the culture from which I came from."
Tran, 29, who played the of Rose Tico in the latest The Last Jedi installment of the Star Wars franchise, was the first woman of color to play a lead role in the science fiction saga. However, despite the historic nature of the role for being "first," the negative comments attacking her appearance and her presence were clearly racist and proved to be too much. Tran closed down her Instagram account earlier this summer with no explanation.
Until now.
It wasn't any particular Instagram post that caused Tran to delete her account. Her moving and powerful opinion piece is a strong reminder of how far this country still has to go in race relations despite the lofty words of the Declaration of Independence and the U.S. Constitution. The practice – intentional and unintentional — of being made to feel "not good enough," because she's not White; being made fun of because she could speak a language other than English; of having to change one's name to one easier to pronounce' of being "othered" because one is Asian American is insidious and pervasive throughout America's institutions and culture.
The Star Wars franchise has been hounded by angry fans who feel White males are losing their status in the galaxy far, far away. It started with John Boyega and Daisy Ridley in Star Wars: the Force Awakens and continued to target Tran.
For some reason, these small contingent of insecure fans think they have some ownership over the George Lucas-inspired mythology. (I would not be surprised if they blame Lucas' African American wife for this trend.) The anti-diversity fans could be seen as a reflection of the rise of White nationalists who voted for Trump out of fear that their America (and their privilege of being White males) is threatened as America becomes more diverse.
"It was then that I realized I had been lied to," the Vietnamese American actress wrote, adding later: "This is what it is to grow up as a person of color in a White-dominated world. This is what it is to be a woman in a society that has taught its daughters that we are only worthy of love if we are deemed attractive by its sons. This is the world I grew up in, but not the world I want to leave behind."
Her essay continued: "I want to live in a world where women are not subjected to scrutiny for their appearance, or their actions, or their general existence. I want to live in a world where people of all races, religions, socioeconomic classes, sexual orientations, gender identities and abilities are seen as what they have always been: human beings."
Tran defiantly concludes: "You might know me as Kelly," she said. "I am the first woman of color to have a leading role in a Star Wars movie. I am the first Asian woman to appear on the cover of Vanity Fair. My real name is Loan. And I am just getting started."
Tran's strongest message to her haters will come next year when the next episode of Star Wars will come out. She will reprise her role as Rose Tico.
READ Tran's entire letter by clicking  here.
AsAmNews has Asian America in its heart. We're an all-volunteer effort of dedicated staff and interns. Check out our Twitter feed and Facebook page for more content. Please consider interning, joining our staff or submitting a story.