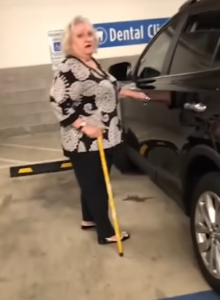 A woman in Portland, Oregon is accused of swiping a car belonging to a Portland State student and then refusing to exchange information with him, reports Oregon Live.
Bassel Hamieh, who describes himself as of Middle Eastern descent, continued to follow the woman demanding that they exchange driver's license and insurance information.
The unidentified woman walks to her car, occasionally raising her cane at the man while telling the student, "some of you are terrorists."
When Hamieh informs her he was born in Portland, she remains skeptical saying her accent is American and his is not.
You can watch the encounter in this video from Occupy Democrats.
"She made the wrong decision to speak to me the way she did, but the issue is a systemic one," said Hamieh to Oregon Live. "I ultimately decided to post the video to show that people like me have to deal with this kind of hate all the time for no reason other than we exist."
More detailed information can be found in this article from Oregon Live.

AsAmNews has Asian America in its heart. We're an all-volunteer effort of dedicated staff and interns. Check out our Twitter feed and Facebook page for more content. Please consider interning, joining our staff or submitting a story.