Three Asian Americans, running as Democrats for seats in the U.S. House of Representatives, won their party primaries Tuesday and now must gear up for the November mid-term elections.
Indian American Hiral Tipirneni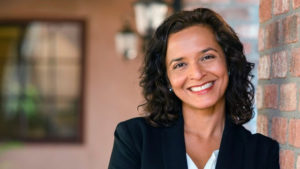 will challenge incumbent U.S. Rep. Debbie Lesko for Arizona's 8th congressional district just months after they ran against each other in a special election to complete the remainder of the term of disgraced former U.S. Rep. Trent Franks.
Since Lesko has been in Washington, she cemented her conservative credentials by joining the Freedom Congress, the radical right wing of the GOP.
Tipirneni, a physician and cancer-research advocate came within 5 percentage points of Lesko in April in the conservative district even though Republicans have a 17-percentage point registration advantage.
This time she ran unopposed for her party's nomination for a two year term. She said she looks forward to have the chance to face off again against Lesko. She says the race for the special election was only eight weeks long, and will build on the momentum for the November contest.
"I'm really excited to do this again so quickly," she said. "We are ready to take on that challenge."
The close result in the special election was seen as evidence that Democrats are newly competitive in Arizona districts where they haven't won in a generation.
In Florida, Rep. Stephanie Murphy, a Vietnamese American, easily won her primary to run for a second term representing congressional district 7.
She soundly beat her opponent, Chardo Richardson, who was endorsed by Social Democrat Alexandria Ocasio Coretez of New York.
"I look forward to a civil general election campaign based on ideas, values, and our different visions for the future of this nation," second-term congresswoman Murphy said in a statement.
"My campaign is about jobs, security, and equality, and I'm proud of the grassroots support we've received across central Florida. In a time of historic dysfunction, I have a proven record of working with both parties to get results, standing up to the president when he's wrong, and always putting people over politics."
Republicans have targeted Florida's district 7 as a district it could flip. Republican state Rep. Mike Miller will be Murphy's challenger this November.
Sanjay Patel, an Indian American activist and organizational transformation consultant, is running for Congress in Florida's 8th Congressional District after winning the Democratic primary Tuesday. 
He was a one-year old when his family immigrated to the U.S. and has two decades of experience in the government, corporate and nonprofit sectors.
"Alexandria Ocasio Cortez has proven that a campaign for the people can be won by the people – even against long odds and established incumbents," Patel stated in a news release, citing the upstart progressive Democrat who won an upset primary victory over an incumbent in a New York congressional district this spring. "I hope our community will continue to support us as we move our campaign to the streets to knock on doors across the district."
Although District 8's incumbent Republican U.S. Rep. Bill Posey's has better name recognition, Patel's grassroots appeals have outraised campaign funds by almost three to one.
AsAmNews has Asian America in its heart. We're an all-volunteer effort of dedicated staff and interns. Check out our Twitter feed and Facebook page for more content. Please consider interning, joining our staff or submitting a story.