By Shirley Lew
AsAmNews Staff Writer
It's been eight months since their eviction, but today the tenants of 85 Bowery Street in Manhattan Chinatown are finally going home.
Most of the tenants have been living at the Wyndham hotel, just a few doors down, but this week they have received new keys to their renovated apartments which included the new staircase.  The deteriorating staircase was considered too dangerous and prompted  the January 18th eviction.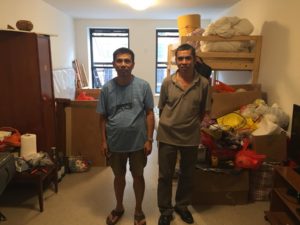 I was able to get into the building before the press conference with a tenant that recognized me from their previous rallies. Inside the building it was bright with adequate lighting and the hallways were painted white. Three men who rented a studio apartment seemed pleased with their new apartment and specifically pointed out their modern well-lit bathroom. Mr. Mee Chuan Cheng pointed with satisfaction to the exhaust fan about the stove, which he may not have had earlier.
Ten-year-old Owen Xue, who has been living in a hotel with his parents, told me he was excited about "the new installments like the doorbell."
As I continued to walk through the building, several tenants were busy unpacking the many boxes in the hallway waiting to be emptied.
The Coalition to Protect Chinatown and the Lower East Side and Youth Against Displacement organized a press conference on Friday afternoon that included a lion dance and confetti.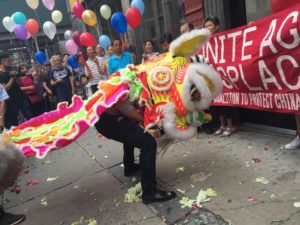 Ken Fisher a representative for landlord Joe Betesh said, "The only people who are happier that the tenants have been able to move back in, are the people who own the building. On behalf of Joe Betesh and his family, welcome home."
Tenants cheered behind him, while a smiling Betesh stood by, but did not speak.
Fisher continued to say, "The owners have been saying they were going to fix the staircase and they did. They said they were going to make all the repairs, and they did. They said they were going to help them out financially, and they did. They have kept every promise that they made and they are delighted. After bitterness, comes happiness and because we are all here celebrating. A new day has come for these tenants."
Zishung Ning, Coalition Representative interpreted for a tenant who said, "We were so hopeless, but August 31st is the greatest day for us. We are standing here and announcing we are going home!"
Community Activist, Don Lee said, "What a beautiful day. What occurred today, shows we can in fact fight City Hall."
It was also announced there will be another celebratory event in October.
Since the tenant's January 18 eviction, the tenants held two hunger strikes and held several rallies. In March it was alleged that asbestos was discovered during the construction, which led to construction workers throwing out tenant's personal items in April to eliminate the asbestos. These incidents angered tenants, but after this long tiring ordeal, the tenants and their reps negotiated with the landlord to a satisfied outcome. 
AsAmNews has Asian America in its heart. We're an all-volunteer effort of dedicated staff and interns.  Check out our Twitter feed and Facebook page for more content. Please consider interning, joining our staff or submitting a story.