These are the docs Rs don't want you to see—because they show that Judge Kavanaugh wrongly believes that Native Hawaiian programs are Constitutionally questionable. I defy anyone reading this to be able to conclude that it should be deemed confidential in any way, shape, or form. pic.twitter.com/yj31vDNGia

— Senator Mazie Hirono (@maziehirono) September 6, 2018
This morning Senator Mazie Hirono released confidential emails from Supreme Court nominee Brett Kavanaugh that opined that government programs targeting Native Hawaiians "as a group" is "of questionable validity under the Constitution" and would be "subject to strict scrutiny."
"I think the testimony needs to make clear that any program targeting Native Hawaiians as a group is subject to strict scrutiny and of questionable validity under the Constitution," Kavanaugh wrote in a 2002 email in response to a Treasury Department official regarding federal assistance in "Indian Country."


Though the documents released in Hiriono's tweets were stamped "committee confidential," they were made public earlier by the office of Senate Judicial Committee chair Sen. Chuck Grassley without the confidential markings minutes before Hirono's tweet.
The Judicial Committee is having several days of hearings to decide on whether or not Donald Trump's nominee is qualified to fill a seat on the nine-member Supreme Court bench.
Grassley's office released the additional documents from Kavanaugh's work in the White House on Thursday morning after requests from several committee Democrats yesterday.
Though the emails had previously been labeled "committee confidential," Grassley noted his staff worked through Wednesday night to tackle "last-minute" requests from Democrats to release the documents publicly, according to The Hill.
The senator from Hawaii said at Kavanaugh's hearing that she saw no reason for the paper to be confidential.
"I would defy anyone reading this document to conclude this document should be deemed confidential in any way shape or form," she said.
Yesterday , Kavanaugh's sentiments on assistance to Native Hawaiians, who he doesn't consider to be indegenous people, were revealed under Hirono's grilling.
By extension, Hirono said, Kavanaugh's positions would also cover the native people in Alaska, the home of Sen. Lisa Murkowski, who Democrats hope will vote against Kavanuaugh.
Earlier documents that were deemed "committee confidential" were released after Sen. Cory Booker (D-N.J.) earlier threatened to go against committee rules that forbade their release. His trove of documents related to Kavanugh's race-related opinions that might reflect his potential judgments on affirmative action or equal justice.
Supreme Court nominee Brett Kavanaugh got a lecture on Hawaiian history yesterday (Sept. 5) as he was grilled by Sen. Mazie Hirono.
On Wednesday, each member of the Senate Judiciary Committee was given 30 minutes to question Kavanaugh. Hirono used some of her time to question him about an opinion piece he wrote that questioned whether Native Hawaiians should be treated as indigenous people by the U.S. government.
Democrat Mazie Hirono used at least some of that time to give Kavanaugh a Hawaii history lesson.
Kavanaugh has been nominated to the court by Donald Trump after the recommendation of the Heritage Foundation, a right-wing think tank. In 1999 he wrote an incendiary op-ed that questioned whether Native Hawaiians should be treated as indigenous people by the U.S. government.
He wrote the piece in support of his position on Rice v. Cayetano, a case before the Supreme Court that questioned whether elections for the Office of Hawaiian Affairs were limited to only Native Hawaiians.
Hirono blasted Kavanaugh for arguing that Native Hawaiians are not indigenous because they came from Polynesia.
The senator's staffers behind Hirono held up a map showing that Hawaii was always a part of Polynesia. It was the U.S. business interests and military that came in and overthrew the Hawaiian monarchy.
Hirono also criticized Kavanaugh for saying Native Hawaiians don't live on reservations or have their own form of government, therefore, they should not be treated the same as American Indian tribes, who are federally recognized as sovereign nations.
Again, she said, Kavanaugh is ignorant of the facts, noting that the islands had long been under their own rule before Captain James Cook "discovered" Hawaii in 1778.
"Judge Kavanaugh, it's hard to believe you spent any time researching the history of Native Hawaiians," Hirono chided.
She said she was particularly concerned about his views in Rice v. Cayetano because the case is often used to challenge the validity of programs designed to help Native Hawaiians.
"I think you have a problem here," Hirono said. "Your view is that Native Hawaiians don't deserve protections as indigenous people," which was contradictory to the (Clinton) government's position.
Kavanaugh's involvement in that case began with Harold "Freddy" Rice, a rancher from the Big Island, who wanted to vote in the Office of Hawaiian Affairs elections. Although Rice was born and raised in the islands, he was of European descent.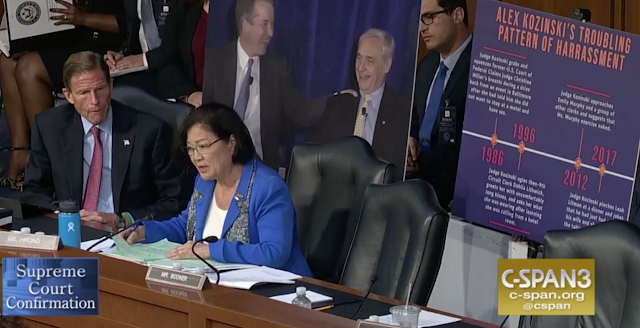 The nation's high court took up Rice v. Cayetano in 1999, and Kavanaugh, then in private practice, was commissioned to co-author an amicus brief for the Center for Equal Opportunity, a right-leaning think tank which sided with Rice, according to the Honolulu Civil Beat.
Kavanaugh thought Rice's constitutional rights were being violated by denying him the right to vote because of his race.
Before the Supreme Court heard the case, Kavqnaugh wrote a piece for the Wall Street Journal, titled, "Are Hawaiians Indians? The Justice Department Thinks So," in which he argued that the state "doles out money to certain citizens based solely because of their race."
He wrote: "And if Hawaii is permitted to offer extraordinary privileges to residents on the basis of race or ethnic heritage, so will every other state."
Hirono began her questioning by aggressively asking Kavanaugh on sexual misconduct, a question she has vowed to ask every judicial nominee.. Hirono asking Kavanaugh about Judge Alex Kozinksi, who retired last year after allegations of sexual assault. Kavanaugh has worked closely with Kozinski over the years.
Kavanaugh denied any knowledge of sexual misconduct by Kozinski.
AsAmNews has Asian America in its heart. We're an all-volunteer effort of dedicated staff and interns. Check out our Twitter feed and Facebook page for more content. Please consider interning, joining our staff or submitting a story.