Don't look now, but two tennis players who now live in the U.S., but are originally from Japan are surprising everyone with their play at the U.S. Open.
Naomi Osaka and Kei Nishikori will be in the spotlight this weekend as tennis fans around the world watch their matches on the New York hard courts.
Osaka has become the first Japanese American woman to reach a Grand Slam final after beating fellow American Madison Keys Thursday (Sept. 6) to set up a meeting with 23-time Grand Slam champion Serena Williams at the U.S. Open. Osaka was just one year old when Williams won her first Grand Slam in 1999.
Osaka, 20, had never beaten Keys in their previous three meetings, but won 6-2 6-4 in New York.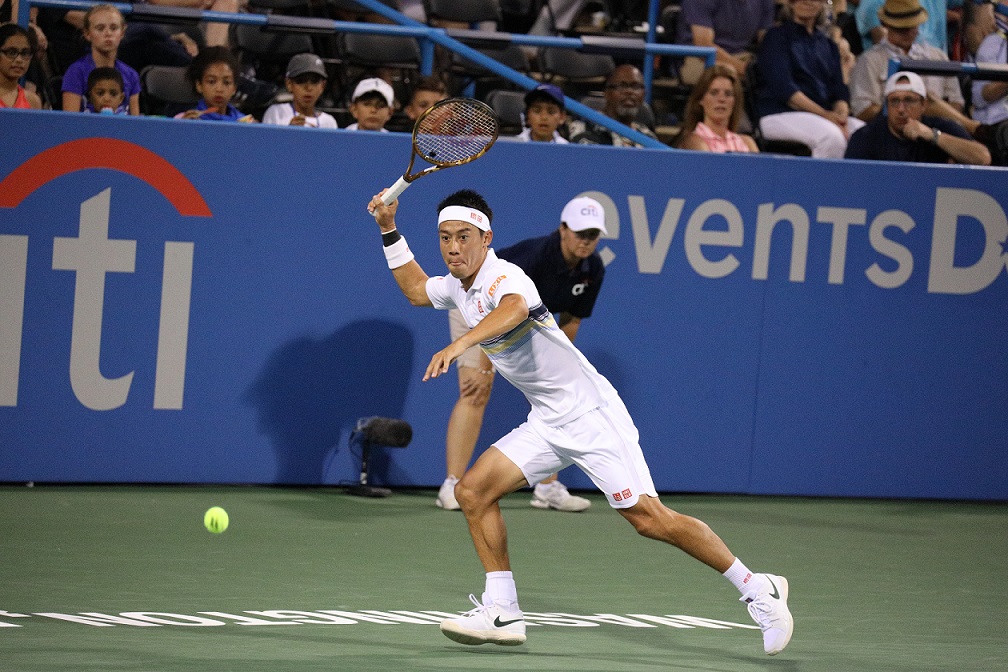 Kei Nishikori outlasted Marin Cilic Wednesday (Sept. 5) to win five-set epic match setting him up for a semi-final match against No. 6 seed Novak Djokcovic.
If Nishikori gets past Djokcovic, it would first time Japan would have a man and a woman in a Grand Slam final at the same time, according to the ATP Tour.
Osaka, as the No. 20 seed, also has the right background for this particular U.S. Open. This late in a tournament beset by extremely hot and humid tennis, she can claim a significant edge: "I actually don't think it's that hot," she said on court after burying Lesia Tsurenko today, 6-1, 6-1.
Osaka identifies as Japanese (her mother's side) and plays for that nation. Her father is Haitian American. Osaka has lived in the U.S. since age 3, originally on Long Island but currently in Boca Raton, Florida.
She's been on a tear in this tournament, winning every set except one — that being in the fourth round against 26th ranked Aryna Sabalenka.
The 20-year old has been building momentum starting last year when at this same tournament, Osaka upset No. 6 seed Angelique Kerber. But her career launching pad was a win at the Indian Wells Premier Mandatory WTA event in early March, reports ESPN. Her booming forehand and scorching-hot serve enabled her to rip through a series of accomplished veterans including three former or current No. 1 players: Maria Sharapova, Karolina Pliskova and No. 1 Simona Halep. Just days later, Osaka went on the dismiss her idol, Serena Williams, in the first round of Miami.
Osaka will face her stiffest test Saturday (Sept. 8) when she once again play against Williams at 1 p.m. EDT.
"I think if she plays like she did tonight, she can definitely give Serena a run for her money;" said Keys. "It will be a really good match. I'm for sure going to watch it."
Nishikori's path to the semi's was a little more tortuous.
No 21 seed Nishikori beat Cilic in a rematch of the 2014 final with a 2-6, 6-4, 7-6 (5), 4-6, 6-4 victory in a match that lasted 4 hours, 8 minutes leaving both players drenched in sweat.
Like Osaka, Nishikori lives and trains in Florida. The 28 year old has lived there since he was 13.
Nishikori will play against Novak Djokcovic who is the No. 6 seed this year. Their match is slated for today (Friday, Sept. 8) 2:30 p.m. EDT.
The two men met in center court at the U.S. Open in 2014 when Nishikori beat Djokcovic in four sets.
AsAmNews has Asian America in its heart. We're an all-volunteer effort of dedicated staff and interns. Check out our Twitter feed and Facebook page for more content. Please consider interning, joining our staff or submitting a story.