Planned Parenthood announced Wednesday that Dr. Leana Wen, head of Baltimore's health department, will serve as its sixth president, becoming the first physician to lead the organization in nearly 50 years.
"Today is a historic day for Planned Parenthood and the millions of people it serves. After an extensive search, I'm proud to announce that Dr. Leana Wen will serve as our next president," said Naomi Aberly, chair of the Planned Parenthood Federation of America Board of Directors. "Not only will she help Planned Parenthood continue to provide high-quality care to women, men, and young people across the country, she will be a powerful voice in our fight to ensure women have the ability to make their own health care decisions — no matter what."
Planned Parenthood provides an array of health care services to more than 2.4 million men, women, and youth nationwide through over 600 health centers, while also serving as a primary source of sex education.
"For more than 100 years, no organization has done more for women's health than Planned Parenthood, and I'm truly honored to be named its president," said Dr. Wen. "As a patient, I depended on Planned Parenthood for medical care at various times in my own life, and as a public health leader, I have seen firsthand the lifesaving work it does for our most vulnerable communities. As a doctor, I will ensure we continue to provide high-quality health care, including the full range of reproductive care, and will fight with everything I have to protect the access of millions of patients who rely on Planned Parenthood."
Dr. Wen has served as the Commissioner of Health for the City of Baltimore since January 2015. During her time leading the Baltimore City Health Department, Dr. Wen has fought to protect Baltimore families from the Trump administration's rollbacks of basic health care protections. She also fought the administration's proposed changes to Title X— the nation's family planning program—to protect funding for 23 Baltimore clinics that provide reproductive health care to low-income women.
She was involved in a March 2018 lawsuit in which the City of Baltimore sued the Trump administration for cutting funds for teen pregnancy prevention, which led to the restoration of $5 million in grant funding to two Baltimore-based teen pregnancy prevention programs.
She also helped lead a lawsuit last month against the Trump administration for allegedly unlawfully sabotaging the Affordable Care Act, which could result in thousands of people in Baltimore losing their health care coverage.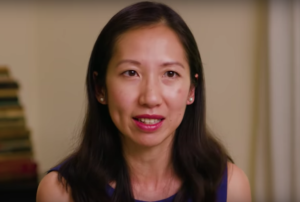 "Anyone who has worked with Dr. Wen knows that when it comes to protecting her patients, she doesn't back down from a fight," said U.S. Representative Elijah Cummings (D-MD). "In Baltimore, she has been a true partner in our shared mission to provide access to quality health care for all. She has expanded care, eliminated obstacles, and, most important of all, saved lives. Her brilliance and passion for her work shines through in everything she does. There is no question that in selecting Dr. Wen as its president, Planned Parenthood is gaining a powerful and effective advocate, and millions across this country will benefit from her leadership."
Dr. Wen was born in Shanghai, China, and her family immigrated to the United States when she was seven years old. She and her parents were granted political asylum and became U.S. citizens in 2003.
She graduated from California State University, Los Angeles at only 18 years old and earned her medical degree from Washington University School of Medicine, during which she volunteered at a Planned Parenthood in St. Louis. She obtained her master's degrees at the University of Oxford and completed her residency training at Brigham & Women's Hospital and Massachusetts General Hospital.
Dr. Wen is known as the "Doctor for the City" in Baltimore, overseeing more than 1,000 employees with an annual budget of $130 million, two clinics that provide more than 18,000 patients with reproductive health services, and medical programs for 180 Baltimore schools.
Some of Dr. Wen's innovations include her issuance of a blanket prescription for the opioid antidote, Naloxone, to all 620,000 residents of Baltimore as a measure against opioid overdose; starting Vision for Baltimore, which provides free glasses to every child who needs them; starting programs to deliver medications and improve food access to seniors; securing funding for Safe Streets, a program designed to treat gun violence as a contagious disease; and leading public health campaigns on vaccinations, childhood obesity, and racism as a public health issue.
"Like so many of our affiliate leaders, she is passionate about balancing public advocacy for reproductive freedom with the daily provision of quality health care," said Anna Quindlen, Chair of the Search Committee and former Planned Parenthood board member. "Like so many of our patients, she is an immigrant determined to do the best for this country. As she likes to say, her whole life has been leading to this position."
Dr. Wen has received numerous accolades for her work. She was named one of Modern Healthcare's 50 Most Influential Physician Executives and Leaders and one of Top 25 Minority Executives in Healthcare. She received the American Public Health Association's highest award for local public health work in 2016 and was named one of Governing's Public Officials of the Year in 2017.
Dr. Wen will begin her term as president November 12.
AsAmNews has Asian America in its heart. We're an all-volunteer effort of dedicated staff and interns. Check out our Twitter feed and Facebook page for more content. Please consider interning, joining our staff or submitting a story.