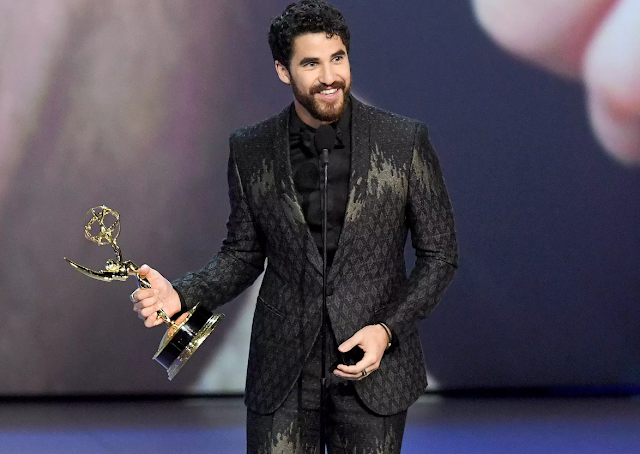 Like a good Filipino son, Darren Criss thanked his family after winning the Emmy last night for his role in American Crime Story: The Assassination of Gianni Versace. 
"Unlike the character I played, I was lucky enough to be raised in a home that was very loving and emphasized the value of hard work, compassion and not taking yourself too seriously," said Criss. Born to a mother from Cebu and a father of English, Irish, and German descent, Criss was raised in San Francisco.
Not only is Criss the first Filipino American actor to win an Emmy , but what makes the acting award even more unique and historic is that he played the role of Versace's murderer, Andrew Cunanan, who was a Filipino American.
"Oh, my God, you guys are witnessing the most extraordinary moment of my life thus far. I'm very privileged to be in this room among so many people who inspire the crap out of me, and I'm so honored to be nominated," Criss said in his accepting his award. "A lot of you guys, I've been a fan of for such a long time. Actors are really only as good as the moments they are given and the moments they are granted. So I am profoundly indebted to my friend Ryan Murphy for entrusting me with this opportunity of a lifetime and for believing in me."
The Assassination of Gianni Versace, nominated in eight categories, also won best drama in a limited series and for its casting.
Criss' win marks the second year in a row that an actor of Asian descent won the award. Last year, Asian Brit Riz Ahmed won in the same category for his role in The Night After.
The two other Asians nominated for Emmy's lost in their categories. Hiro Murai didn't win in the best director of a comedy series for Atlanta and Sandra Oh failure to win the Emmy for Best Actress in a Drama Series for her acting in the BBC spy thriller Killing Eve was a major snub.
The best actress award went to Claire Foy of The Crown and Foy was expressed her surprise when she received the statuette. "This wasn't supposed to happen," Foy said when she took the stage to collect her first career Emmy. "Sandra Oh, I just love ya."
Despite her loss, Oh already made history for being the first Asian American actress to receive an acting nomination. This is the sixth time Oh has received an Emmy nomination.
In an earlier interview with ET, Oh said she hopes the Asian community continues to be proactive about getting their voices  and stories out into the world thanks to success of Crazy Rich Asians, Netflix's acclaimed teen romance To All the Boys I've Loved Before, John Cho's acclaimed thriller Searching.
The Korean Canadian actress said she feels more comfortable expressing herself with color-blind roles like Killing Eve rather than politically.
"Definitely understanding deeply that it's not enough and to encourage our own community to find its own voice in its own way, that's one thing that I feel we have not found our own footing yet. Because it has to be from us, uniquely in us, and there's a lot to explore in that because Asians are very, very diverse," Oh said to ET.
"Having been actively working in this space, where there has not been much representation at all and being [one] of the only visible faces, I feel like this is the only way that it works for me, I only look at it creatively."
The opening number "We Solved It," spoofed the Emmy's move towards inclusion, Saturday Night Live's Kate McKinnon and Keenan Thompson introduced Oh. Oh said, "It's an honor just to be Asian." To which Thompson replied, "You see, there was none. Now there's one!"
That's no joke.

(Editor's Note: An earlier version of this story incorrectly identified Sandra Oh as Chinese Canadian)
AsAmNews has Asian America in its heart. We're an all-volunteer effort of dedicated staff and interns. Check out our Twitter feed and Facebook page for more content. Please consider interning, joining our staff or submitting a story.