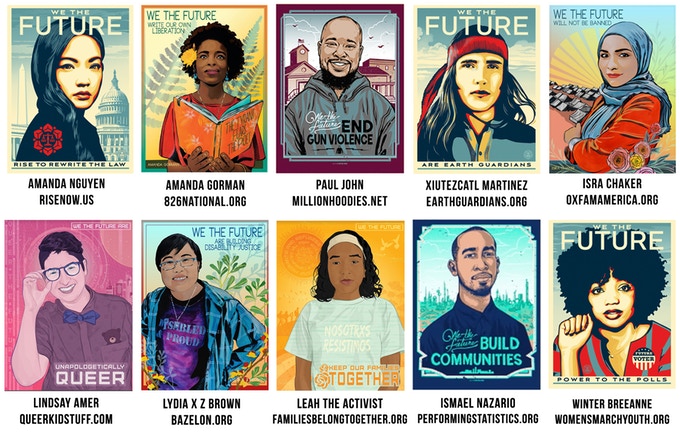 A new Kickstarter campaign is underway to bring the stories of diverse people into schools across the country.
We the Future from Amplifier will feature posters featuring ten Americans, several who are Asian American. The goal is to plaster  20,000 of these posters on the walls of school's nationwide. Amplifier is the same group which launched We the People  in 2016. Its  posters were widely seen during the first Women's March after the inauguration of Donald Trump.
As of this morning, the fundraising drive had raised $146,000 dollars-more than three times its $40,000 goal.
Amplifier has commissioned numerous activist artists for the project including Shepard Fairey, Rommy Torrico, Munk One, and Kate DeCiccio.
Among the Asian Americans featured is Amanda Ngoc Nguyen who is a Nobel Peace Prize nominee in 2018. She is the CEO and Founder of RISE and the author of the Sexual Assault Survivor's Bill of Rights.
"My first encounter of Shepard Fairey's iconic art was his Obama Hope poster," wrote Nguyen on Facebook. "Never would I have imagined one day I would be one of them.
Also featured on the We the Future posters is Lydia X.Z. Brown, an Asian American disability rights advocate. The White House honored her in 2013 with its Champion of Change award.
"Since I began advocating for disability justice in 2009, I have learned that violence has permeated every part of disability history," said Brown in a profile featured on the White House website in 2013. "People with disabilities were targeted for elimination during the Holocaust under Nazi Germany, forcibly sterilized under the Constitution in Buck v. Bell (1927), a decision that has never been overturned, and repeatedly rejected for life-saving organ transplants solely on the basis of disability without any legitimate medical reason."
Isra Chaker is the refugee campaign lead for Oxfam, an international non-governmental organization, and is also featured on We the People. Her family is from Syria. She has been personally impacted by the Muslim ban and unable to reunite with her family.

AsAmNews has Asian America in its heart. We're an all-volunteer effort of dedicated staff and interns. Check out our Twitter feed and Facebook page for more content. Please consider interning, joining our staff or submitting a story.