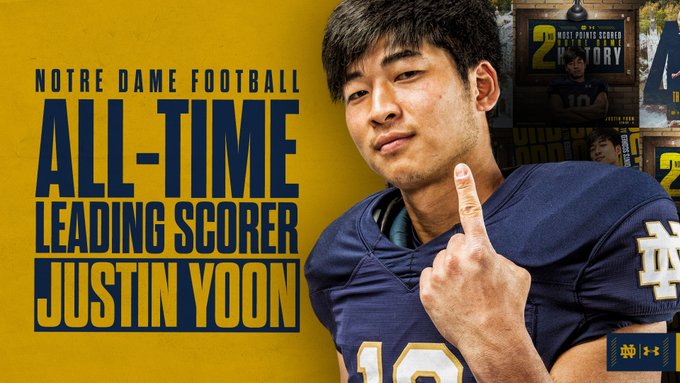 Placekicker Justin Yoon has become Notre Dame's all-time leading scorer, breaking a record that has stood for 33 years.
NBC Sports reports Yoon's extra point giving the Irish a 38-16 lead Saturday over Virginia Tech set the record. He went on to kick another point after attempt giving him 322 career points-a record that is sure to grow as long as he stays healthy in this his senior season.
Yoon told the Indy Star that it wasn't that long ago that he knew nothing about football.
"I didn't know Tom Brady or anything. Like nothing," he said. "I was clueless."


Yoon grew up playing hockey, soccer and lacrosse growing up. It wasn't until high school when a coach saw him kick a soccer ball that he was urged to try football. When he did, he started hearing whispers he could play football in college.
"I'm like, 'What are you talking about? I just started doing this,' " Yoon recalls saying back then.
Yoon was born in Cincinnati, but raised in Seoul until the age of 10. He is thankful for the opportunities given to him.
"It's a blessing. I mean not many people get this opportunity, and the fact that I even have a chance is all thanks to everyone here," he told WSBT.
AsAmNews has Asian America in its heart. We're an all-volunteer effort of dedicated staff and interns. Check out our Twitter feed and Facebook page for more content. Please consider interning, joining our staff or submitting a story.