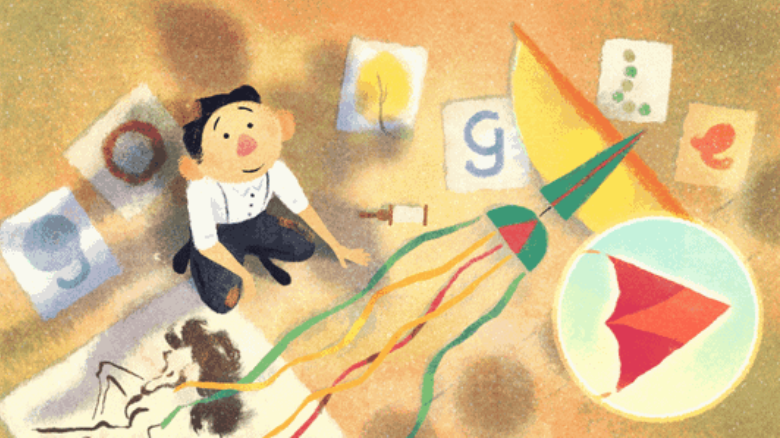 Google featured Chinese American artist Tyrus Wong in its Google Doodle this morning to celebrate his 108th birthday, reports CNN.
A multi-talented artist, Wong is best known for working on the 1942 Disney movie Bambi as an animator and illustrator. He drew his inspiration for the movie's scenic backgrounds from Song Dynasty-era classical Chinese art.
Google Doodle creator Sophie Diao said Wong's work "has inspired me since I first learned about him as a first-year animation student," explaining that his art "motivates me to think about ways to channel my own Chinese heritage in the stories and artwork I make."
Born in China in 1910, Wong immigrated to the U.S. at nine years old with his father. The Chinese Exclusion Act restricted the number of Chinese immigrants at the time; while his father got into the U.S., Wong was held for nearly a month before he was able to enter the States, reports Newsweek.
Wong said his father encouraged his love for art and made him practice calligraphy daily with water and newspaper since they couldn't afford a formal education, according to an interview Wong had with the Otis Art Institute. The institute offered him a scholarship at 16 years old.
According to Newsweek, Wong was initially credited as only a background artist for his work on Bambi. Despite his talents as a painter, muralist, ceramicist, lithographer, kite maker, set designer, and storyboard artist, he was not recognized for most of his achievements until the latter part of his life.
Wong also recalled wearing a pin stating he was Chinese, not Japanese, during World War II, a time of high anti-Asian sentiment. He became a U.S. citizen in 1946.
Wong was fired by Disney after an animators' strike in 1941. He then worked at Warner Brothers for most of the rest of his career. Major credits include The Sands of Iwo Jima (1949), Rebel Without a Cause (1955), Around the World in 80 Days (1956), and The Wild Bunch (1969). He also designed popular greeting cards for Hallmark.
Wong's work has been featured in the Chinese American Museum and the Craft and Folk Art Museum in Los Angeles.
In 2001, Disney honored him by naming him a Disney Legend for outstanding contributions to animated media. He died in 2016.



Wong's daughters Kim, Tai-Ling, and Kay collaborated with Google for this project. "Our Dad was always creating art," they stated. "Growing up, we benefited from his rich imagination and creativity—from his design of our family's home and garden to the handmade holiday gifts he created for us even when he was in his 90s.
"Through his work ethic, appreciation of nature's beauty, and joy in creating art, Dad was a role model for us. We miss him very much and to this day, whenever we see something humorous, clever, or beautiful, we think of him and wish we could share it with him."
AsAmNews has Asian America in its heart. We're an all-volunteer effort of dedicated staff and interns. Check out our Twitter feed and Facebook page for more content. Please consider interning, joining our staff or submitting a story.