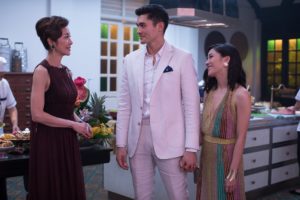 Could it happen? Could Michelle Yeoh be honored with an Oscar nomination for her role as Eleanor Young in Crazy Rich Asians?
At least two articles out say the answer could be yes.
Forbes says "rule out (Yeoh) at your peril" and puts the veteran actress in the long shot category for best supporting actress.
Gold Derby, however, makes a strong case that Yeoh's nomination should be more than a long shot. Rather it should be a sure thing.
Reviewer Kevin Jacobsen describes Yeoh's performance as a "tough yet vulnerable take on a character who could easily verge into two-dimensional villainy."
If nominated, Yeoh would be the first Asian actress to be nominated since Rinko Kikuchi for Babel in 2006. Kikuchi is one of five nominated in the past. The others include Jennifer Tilly for Bullets over Broadway in 1994,Meg Tilly for Agnes of God in 1985, Miyoshi Umeki who won for Sayonara in 1957, and Maori Merle Oberon for The Dark Angel in 1935.



AsAmNews has Asian America in its heart. We're an all-volunteer effort of dedicated staff and interns. Check out our Twitter feed and Facebook page for more content. Please consider interning, joining our staff or submitting a story.