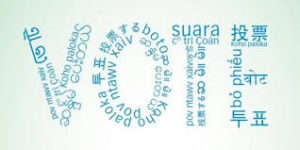 A non-partisan election-eve poll conducted by the AAPI Civic Engagement Fund found Asian Americans and Pacific Islanders are angry at Donald Trump and took their rage to the ballot box.
The poll focused on six states where there are contested elections-Arizona, California, Florida, Georgia, Nevada and Texas. Included in the poll are 70 House battleground districts.
Those Asian Americans and Pacific Islanders surveyed say they voted for Democrats over Republicans by a margin of 72% to 24%.
Top issues for AAPI voters in these battleground states were health care costs, 33%; the economy, 21%; and immigration, 18%.
"Asian Americans, Native Hawaiians, and Pacific Islanders are making their voices heard this election cycle on the issues that remain important to our communities such as healthcare, immigration, and the economy," said Kathy Ko Chin, president and CEO of the Asian & Pacific Islander American Health Forum. "Our communities make up more than five percent of voters in eight states and 108 congressional districts, and the poll results indicate the increasing recognition that our communities are important segments of the American voting electorate."
71% Asian and Pacific Islander American voters in battleground districts say Trump and his GOP party are normalizing sexism and sexual harassment against women in America.
"Asian American and Pacific Islander voters are headed into the 2018 midterms angry about the president's words and deeds and clearly rejecting the Republican Party's politics of fear and division," said Taeku Lee of Asian American Decisions. "In stark contrast to the 2014 midterms, AAPI voters are also being mobilized and are engaged in unprecedented numbers."
75% of Asian and Pacific Islander American voters in battleground districts encouraged friends or family to register and/or vote.
"This year's poll reveals that Asian American and Pacific Islander (AAPI) voters are mobilized like never before, with initial results pointing to an increase in early voting and other forms of political participation, like, encouraging friends or family to vote, donating to campaigns and attending events and rallies," said EunSook Lee, Director of the AAPI Civic Engagement Fund.
"Commissioned by a cross-sector of organizations to capture a fuller, more accurate picture of the increasingly diverse American electorate, the nonpartisan poll sheds unprecedented light on how African American, AAPI, Latino, Native American, and white voters engaged in the 2018 midterm elections."

AsAmNews has Asian America in its heart. We're an all-volunteer effort of dedicated staff and interns. Check out our Twitter feed and Facebook page for more content. Please consider interning, joining our staff or submitting a story.