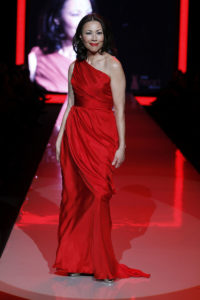 Television journalist Ann Curry's show We'll Meet Again is back for season two, The Oregonian reports.
Curry's television show focuses on people whose paths crossed during memorable moments in history, even reuniting them together decades later. Some examples include the Vietnam War, the Holocaust, and the Mariel boat lift from Cuba.
"We knew these stories would be powerful, but we didn't know they would resonate with viewers as much as they have," said Curry, according to Broadcasting & Cable. "Several times a week now, wherever I go, people stop me to say they've been touched by these stories. There is something about seeing others rise when faced with challenges that wake you up to what is possible in you. The most common comment I get is, 'This is what we need to hear now.'"
Curry's parents met in Japan after World War II. She was born in Guam to Japanese mother Hiroe Nagase and American father Bob Curry. The family eventually moved to Ashland, Oregon, where the future television journalist would attend high school. She would later receive a B.A in Journalism from the University of Oregon.
Curry is set to star on season five of another television show, Finding Your Roots, in which she will learn more about her family's ancestry and family tree. The host of We'll Meet Again cites interest in her father's family history as her main reason for doing the show.
Season five of Finding Your Roots is set to premiere in 2019. Season two of Ann Curry's We'll Meet Again will premiere on PBS at 8 PM on Tuesday, November 13.
AsAmNews has Asian America in its heart.  We're an all-volunteer effort of dedicated staff and interns.  Check out our Twitter feed and Facebook page for more content.  Please consider interning, joining our staff or submitting a story.