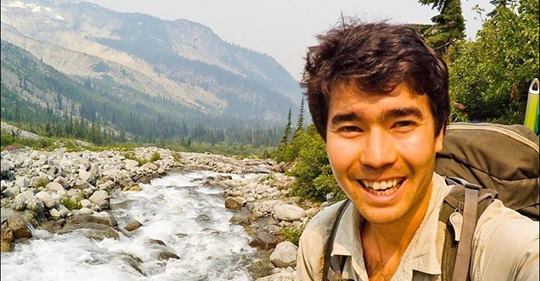 Views from the Edge
An Asian American missionary wanted to spread the word of God to inhabitants of a remote island in India, but instead he was killed by a hail of arrows.
Journal entries from John Allen Chau, 26, uncovered since his death, indicate he knew he might not return alive.
Chau (Photo from Instagram) was killed over a week ago and reportedly buried in the sand shortly after setting foot on India's North Sentinel Island in the Bay of Bengal. The island is inhabited by endangered tribes and, in order to protect their way of life, the Indian government forbids outsiders from visiting them.
The Sentinelese who he wished to convert to Christianity, are the most reclusive of the tribes and in the past have driven away uninvited guests with spears and bow and arrows and thrown spears at helicopters flying overhead.
Chau apparently knew that his visits to the Sentinelese was illegal and dangerous, according to his entries in his journal.
On Nov. 16,, the night before his fatal visit to the Sentinelese, Chau penned a letter to his parents, asking them not to be angry at the Sentinelese or God if he were to die. He advised them to live their life in "obedience" and that he would see them again when they "passed through the veil."
According to journal entries made public by his family, Chau made multiple unsolicited trips to the community over the past three years as he made plans to "establish the kingdom of Jesus" on the island.
In his journal, Chau described himself as "an American citizen, part Irish, part Native American and part African and part Chinese and South East Asian"; groups that have painful histories of invasion, colonization and forced 'civilization.'"
"God, I thank you for choosing me before I was even yet formed in my mother's womb to be your messenger, of your good news to the people North Sentinel Island," he wrote. He then expressed hope that the Sentinelese tribe will accept Jesus and Christianity with an open heart.
Chau made arrangements with local fishermen to bring him to the island. They brought him as close as they dared, knowing the ihabitants' hostility to outsiders. He made the final leg of the journey by himself in a canoe.
As he approached, one of the tribesmen shot an arrow at him hitting him in the chest. By a miracle, he survived because the arrow hit a bible he was carrying.
He returned to the fishermen's boat where he wrote the notes in his journal describing his attempts to evangelize the natives. He left instructions with the fishermen that if anything happened to him, to give his journal to a local friend.
The next day, as he again made an attempt to meet with the natives, he was again met with arrows. That is when he met his death. Witnesses said he was buried in the sand.
Authorities have not yet recovered his body.
Chau's family in Alabama released a statement saying he "loved God, life, helping those in need, and had nothing but love for the Sentinelese people," according to the BBC.
"We also ask for the release of those friends he had in the Andaman Islands. He ventured out of his own free will and his local contacts need not be persecuted for his own actions," the statement said.
"He loved God, life, helping those in need and had nothing but love for the Sentinelese people," the family said. "We forgive those reportedly responsible for his death. We also ask for the release of those friends he had in the Andaman Islands."
"This is not a pointless thing – the eternal lives of this tribe are at hand and I can't wait to see them around the throne of god worshiping in their own language as Revelations 7:9-10 states," he wrote in one of the last journal entries. "I love you all and I pray none of you love anything in this world more than Jesus Christ," he said, before signing off 'Soli Deo Gloria', followed by his name.

AsAmNews has Asian America in its heart. We're an all-volunteer effort of dedicated staff and interns. Check out our Twitter feed and Facebook page for more content. Please consider interning, joining our staff or submitting a story.