By Mandy Day
AsAmNews Staff Writer
Documentaries tell stories that often shed light on issues affecting communities of color that are often overlooked. The San Diego Asian Film Festival recently wrapped on its 19th year, and as in years past, brought local audiences documentaries spanning the Asian diaspora. Origin Story is an exceptional story of one woman's quest to uncover a long held family secret. San Diego Asian Film Festival jurors awarded Origin Story with the Special Jury Award at the Festival's Gala earlier this month.
Origin Story follows Kulap Vilaysack as she revisits her childhood as the daughter of Lao refugees in Minnesota. Vilaysack, a podcast host, writer, and actress in Los Angeles travels to her childhood home in Minnesota for answers to lingering questions about her family's past and the identity of her biological father.  After enduring years of emotional and physical abuse, Vilaysack confronts her mother in an attempt to understand why their relationship is so strained. The viewer is taken on a journey of self-discovery as Vilaysack hears about her parents' harrowing escape from war and surviving a refugee camp before resettling in the United States. Audiences then follow Vilaysack's pursuit to find her biological father traveling across the Pacific Ocean to the place where her parents' relationship began.
When Vilaysack learns her father's identity, she embarks on a trip to Laos to meet him for the first time since she was a toddler. While she has hope of establishing a relationship with him, his wife, and daughters, she exhibits tentativeness about their fledgling relationship. Vilaysack, after being reunited with her outgoing father, learns she also has a half-sibling living in Northern California, and her father tells his side of the story on his separation from Vilaysack and her mother. As the film progresses, the pair travel to remote parts of Laos together, building a foundation for their relationship and meeting with extended family members. As the pair part upon Vilaysack's return to the United States, there was hope that the two would no longer be estranged.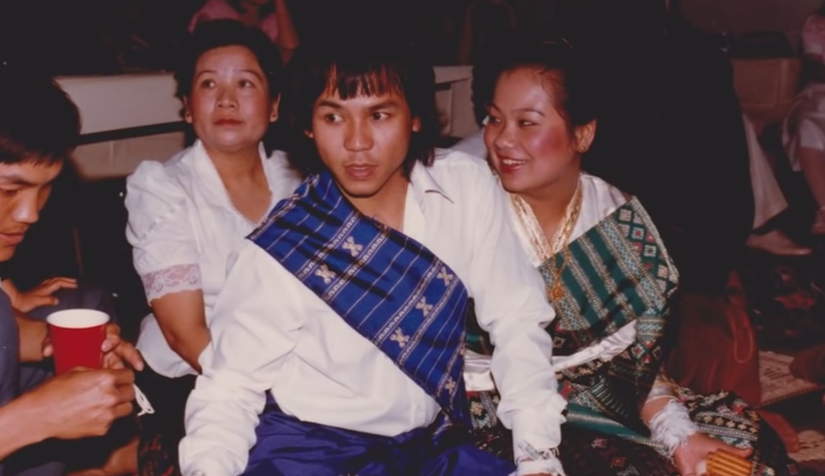 For the sake of omitting spoilers, the film isn't one that has a completely happy ending. But viewers are introduced to a subject that isn't often deeply investigated or discussed, how trauma can have devastating effects on families, and exacerbate addictive tendencies and domestic violence. The interviews Vilaysack conducted with her mother, adoptive father, and sisters were raw and heartbreaking, but they were conversations that were essential to understanding this complicated family and for Vilaysack to begin the healing process. Frank discussions about issues affecting the Asian American community can lead to more open dialogue and progress for individuals and communities alike. Origin Story has recently completed screenings at film festivals in North America and time will tell if this riveting account of one woman's search for the truth will be available for viewing to wider audiences in the near future.

AsAmNews has Asian America in its heart. We're an all-volunteer effort of dedicated staff and interns. Check out our Twitter feed and Facebook page for more content. Please consider interning, joining our staff or submitting a story.