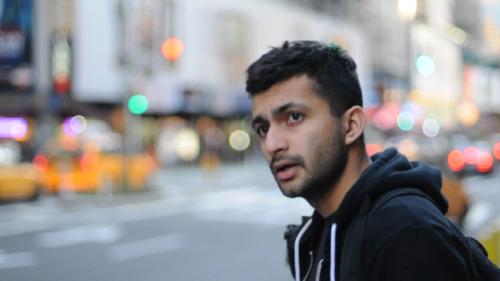 (Editor's Note: This post has been updated with comments from Columbia's Asian American Alliance, the student group that invited Nimesh Patel to perform)

A night intended to celebrate Asian American artistic expression exploded in controversy when an AAPI student group at Columbia University in New York abruptly ended the set of Nimesh Patel, best known as a former writer for Saturday Night Live.
According to the Columbia Spectator, Patel joked about a gay Black man in his neighborhood, joking that being gay could not possibly be a matter of choice.  The  campus news site, Bwog, described the mood as growing increasingly tense.
"No one looks in the mirror and thinks, 'this Black thing is too easy, let me just add another thing to it.'" Patel reportedly joked during his Friday night performance at cultureSHOCK, an annual showcase at Columbia University.
About 30 minutes into the set, organizers from the Columbia Asian American Alliance interrupted his routine and denounced his jokes as inappropriate. Bwog reported one audience member told him he was being disrespectful.  Commentator Liberty Martin, writing for the Spectator,  said:
While Patel started with strong laughs, he soon hit a controversial joke that earned mixed reactions. Instead of moving on, Patel warned us that he's from an older generation (this guy is only 32), and then delivered the usual condescending and presumptuous spiel about how we need to learn about the "real world." I thought, "Relax, you just got on stage." Patel presented himself as arrogant and almost contemptuous toward the audience he was meant to entertain. Later, he even said, "Well, I'm already paid," setting the tone of his performance.
Show organizers offered Patel an opportunity to make closing remarks. The Spectator reported that he commented that he stood in solidarity with Asian American identities, denied he was being offensive and offered that he was exposing his young audience to ideas that could be found  "in the real world." At that point, Patel's mic was cut off.
One audience member the Spectator talked with defended him.
"While what some of the things that he said might have been a bit provoking to some of the audience, as someone who watches comedy a lot, none of them were jokes that I hadn't heard before and none of them were jokes that elicited such a response in my experience," first year student Elle Ferguson said. "[AAA] should have talked to him beforehand especially because comedy is known for being ground-breaking and for pushing boundaries."
AsAmNews reached out to both Patel and AAA for comment. AAA declined to answer our questions, but did send AsAmNews a statement.

"Patel's remarks ran counter to the inclusive spirit and integrity of cultureSHOCK and as such, the choice was made to invite him to leave. We acknowledge that discomfort and safety can coexist, however, the discomfort Patel caused was unproductive in this space. We ourselves are still processing the events of cultureSHOCK and maintain different perspectives on it even within our organization. We invite and welcome dialogue concerning his remarks and our actions.

That being said, we deeply apologize for inviting him in the first place and bringing these comments into a space for inclusion and acceptance. We apologize for the hurt his words caused members of the community.
AAA organizers told Patel that their audio technician had to leave early and thus he would need to leave the stage.

"We also apologize for being inarticulate as we invited him to leave and that we fell back on an excuse that implicated Lerner Tech, a group not concerned in the issue. This has been a learning experience that we will take with us as we plan future events."

AsAmNews will also publish Patel's remarks if he gets back to us.

AsAmNews has Asian America in its heart. We're an all-volunteer effort of dedicated staff and interns. Check out our Twitter feed and Facebook page for more content. Please consider interning, joining our staff or submitting a story.