Scott Chen, the president and former chief technology officer of Grindr, a popular gay dating app, is facing backlash over his personal comments on his Facebook page that was interpreted to infer that he is against same-sex marriage reports CNN.
INTO, a digital magazine focused on a queer audience—and also owned by Grindr—first accused Chen on their blog based on a loose translation of a post on his public page. Editor-in-chief of the magazine tweeted along with their article on Chen, "Today we at INTO have learned that the current president of Grindr believes that same-sex marriage is a "holy matrimony" between men and women."
The magazine reported that Chen made anti-gay marriage comments when he shared one of their articles about Cher Wang, the president and chief executive officer of HTC, who supports anti-gay groups attempting to suppress marriage equality in Taiwan.
The controversy appears to have originated from a screenshot of a Facebook-automated translation of Chen's public post written in Chinese reports LGBTQ Nation. The New York Times reports that while Chen advocated for boycotting HTC products and against Christian groups in Taiwan, the first lines of the post were not well received by users of the app.
He wrote in Chinese (according to The New York Time's translation of the post):
Some people think that marriage is a holy union between a man and a woman, I think so too, but that's your own business.

Some people think that the purpose of marriage is to bring up children with your own DNA, but that's your own business.

But there are people who aren't the same as you, and desperately hope that they can also get married; they have their own reasons for wanting that.

Getting married is personal. If you have money, can't you donate to people suffering from poverty, hunger, war or natural disasters, those who are truly in need of it? Why do you spend so much money to prevent people in love from getting married? Aren't there other important things in your life?

It's true, I won't buy HTC products for the rest of my life, and I won't donate any money to Taiwan's Christian groups ever again for the rest of my life!
Chen responded in the comments of the INTO article and clarified that he was speaking about his own marriage. He said, "The reason I said marriage is a holy matrimony between a man and a woman is based on my own personal experience. I am a straight man married to a woman I love and I have two beautiful daughters I love from the marriage. This is how I feel about my marriage. Different people have their different feelings about their marriages. You can't deny my feelings about my marriage."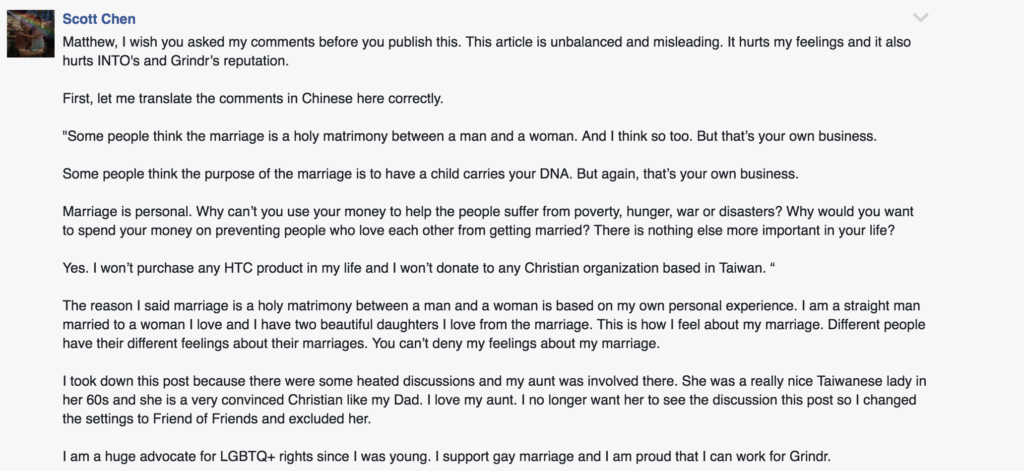 INTO updated their first article and said that Chen—who assumed leadership after Grindr was sold to the Kunlun group, a Chinese gaming group—released an internal statement to Grindr staff that said: "I wrote a post on my personal Facebook account meant to condemn those advocating against same-sex marriage in Taiwan. The words I chose related to marriage between a man and a woman were meant to express my personal feelings about my own marriage to my wife – not to suggest that I am opposed to marriage equality." Chen also expressed in this internal statement as well as his response under INTO's initial article of his support for gay marriage and LGBTQ+ rights— that he has been "an advocate for LGBTQ+ rights and have been since [he] was young."
In November on his Facebook page, Chen had posted a photo of Grindr's attendance at the National Taiwan University supporting the national marriage referendum for marriage equality.
AsAmNews has Asian America in its heart. We're an all-volunteer effort of dedicated staff and interns. Check out our Twitter feed and Facebook page for more content. Please consider interning, joining our staff or submitting a story.