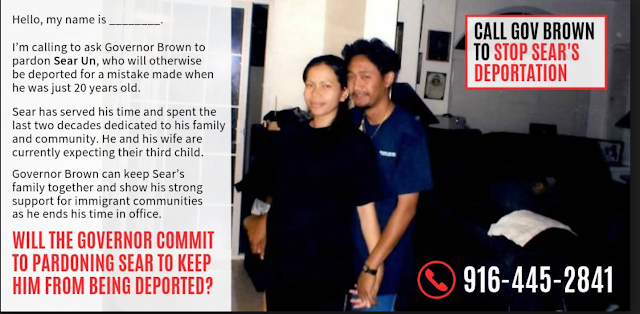 Six Cambodian refugees slated for deportation were pardoned by California Gov. Jerry Brown on Christmas Eve.
Now in the waning days of his final term in office, Brown has pardoned 131 individuals including six Cambodian refugees – one who was on a flight to Texas last week to join other detained Cambodians for deportation to Cambodia.
Because of Brown's action, Sear Un was able to spend Christmas with his family. Sear immigrated to the United States from Cambodia in 1984, fleeing genocide at the age of 7.
In 1998, Sear was convicted for a residential burglary that netted him a total of $120. In the two decades since, Sear never committed another crime and instead dedicated himself to his family and community.
The past year has been devastating for Southeast Asian refugee communities as ICE has carried out the largest raids on the Cambodian and Vietnamese communities in U.S. history. 
Last week ICE was flying Sear and 35 other Cambodians to Texas, where another flight was scheduled to deport them to Cambodia. During the flight, Advancing Justice – Asian Law Caucus attorneys learned of Brown's pardon. That pardon pulled Sear off of this deportation flight and allows him time to reopen his case in immigration court.
"I have a lot of gratitude for my family and community for standing up for me," said Sear Un. "I hope that future California governors will continue to recognize the injustice afflicting our communities today and act to end the suffering that continues to tear our families apart."
"We are profoundly grateful that Sear is home for the holidays and that he was released from ICE custody in time for his daughter's 4th birthday," said Kevin Lo, Staff Attorney at Advancing Justice – Asian Law Caucus.
"While we applaud Governor Brown for pardoning Sear, ICE continues to raid the Cambodian community every four months. We hope Governor-Elect (Gavin) Newsom will continue using pardons to prevent these unjust deportations."

The deportations are part of Donald Trump's immigration policy of deporting individuals with criminal records even if they had served their sentences. About 2000 Cambodian Americans, many who had never set foot in Cambodia, are on ICE's list to deport.

Brown's pardons don't automatically stop deportation proceedings, but they eliminate the state convictions on which federal authorities might base deportation decisions. That gives the men's lawyers strong legal arguments before immigration judges to try to prevent their removal from the country.

"I would say that it is absolutely certain that there are other people on board who could have reopened their removal orders," Lo added in an email to Voice of America.

AsAmNews has Asian America in its heart. We're an all-volunteer effort of dedicated staff and interns. Check out our Twitter feed and Facebook page for more content. Please consider interning, joining our staff or submitting a story.