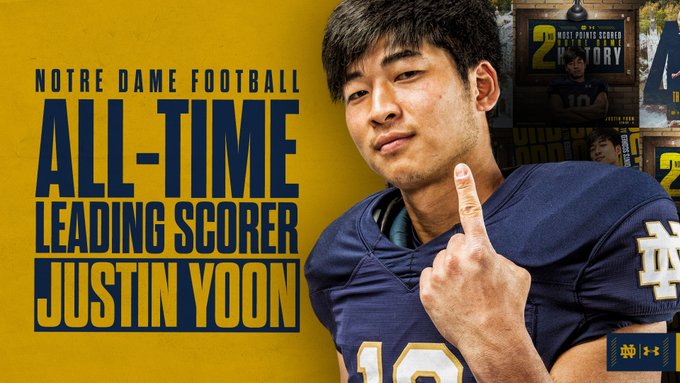 Justin Yoon could kick his number three Notre Dame Fighting Irish Saturday into the National Championship game of college football.
That's the prediction of a Fighting Irish fan website which predicts the all-time Notre Dame leading scorer will kick the winning field goal against number two Clemson in the Football Playoffs Saturday.
Yoon is considered by many to be the number 1 place kicking prospect in the upcoming NFL draft in April, but for now he's focused on Saturday's game at the Cotton Bowl. He knows that the Korean American community is counting on him.
"It's really heavy stuff. When you're Korean, you're putting an entire load, an entire country, on your back," Justin said to Bleacher Report. "The way it goes, I have to accept it. I have to continue to do what I'm doing and just hopefully aspire to help contribute to the successes of others and help them."
According to ABC57, he comes from a family of athletes. His brother was a speed skater, his sister a figure skater and his dad is now a judge for the International Skating Union after competing himself.
"My dad just put me on skates and let me skate around and get used to it," Justin said to ABC57. By high school, Justin would become a three sports athlete- soccer, hockey and lacrosse. Justin was just kicking the ball around at soccer practice when a football coach spotted him. The rest is history.
Unlike other Asian parents, his dad encouraged him to excel beyond academics.
"Everyone else can get all A's," Jiseop says to Bleacher Report. "I wanted my kids to do something different."
Justin is well aware he is one of the few Asian American athletes to gain recognition in the country. His dad prepared him well, even preparing him for the cultural differences in the locker room and learning to adapt.
"I can tell you what you could expect in White culture. That's what happened at boarding school (where Justin went to high school)," his dad Jiseop told Justin as they were driving to Notre Dame before his freshman year. "That's purely White. I don't know Black culture. More than half of your locker room is going to be Black. That's something you need to learn yourself."
364 career points later, Justin has made his mark. A plague will go up at Notre Dame to recognize his achievements.
"A lot of Koreans look up to you," his grandpa said. "Your body is not your own anymore."

AsAmNews has Asian America in its heart. We're an all-volunteer effort of dedicated staff and interns. Check out our Twitter feed and Facebook page for more content. Please consider interning, joining our staff or submitting a story.