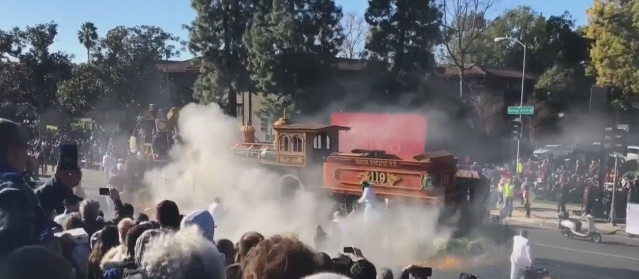 A Rose Parade float meant to honor the unsung Chinese Americans who built the Transcontinental Railroad stalled on the parade route after catching fire.
Smoke filled the air, but those on the float, some who were descendants of Chinese railroad workers, got off safely and without injury, report NBC LA.
The float had to be towed off the parade route. The delay caused a long gap in the parade and many spectators left thinking the parade was over.
The float was sponsored by the Chinese American Heritage Foundation out of Boston. ABC reported during its coverage of the parade that the float entitled Harmony Through Union was build in the last weeks leading up to the parade, an extremely short period in a parade in which floats can take as long a year to construct.
Parade organizers described Harmony Through Union, at 95 feet, as the longest in this year's parade. It was so long the first tow truck that arrived could not haul it away and a second one had to be called in.
Some managed to find humor in the float's demise. You can watch Funny or Die's coverage with Cord Hosenbeck and Tish Cattigan of the mishap here.
"That's why the parade is so dynamic, year in and year out," Cord said. "Someone better call Triple-A."
"You can't be perfect like a prima ballerina," Tish added.
AsAmNews has Asian America in its heart. We're an all-volunteer effort of dedicated staff and interns. Check out our Twitter feed andFacebook page for more content. Please consider interning, joining our staff or submitting a story.