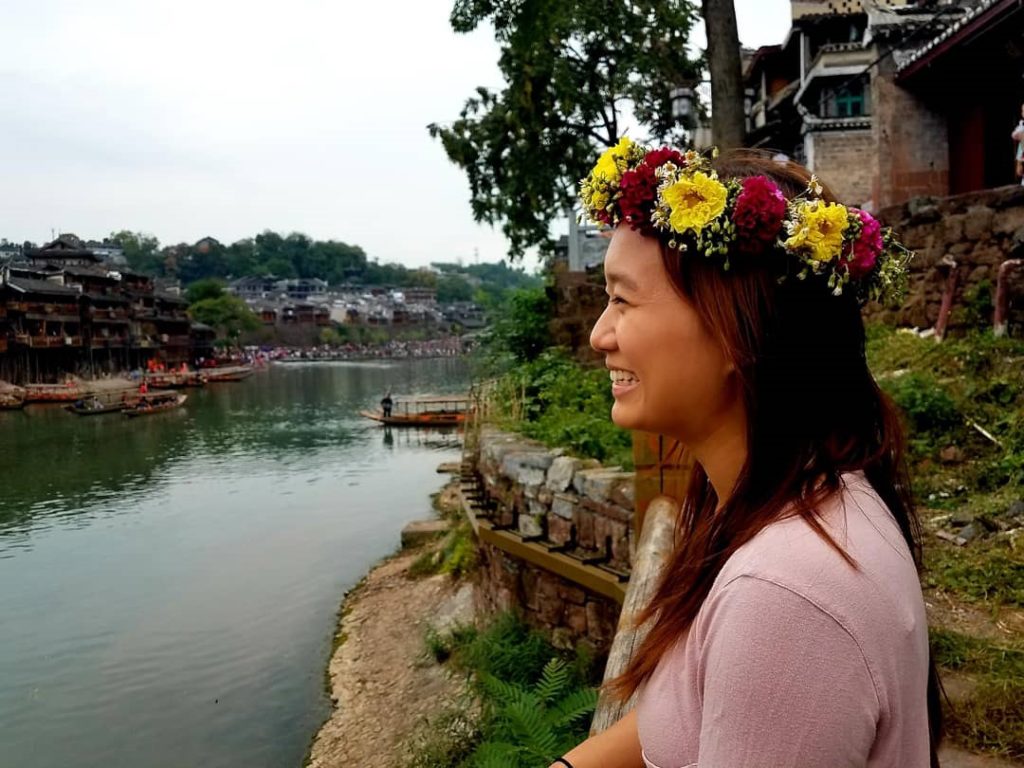 By Olivia Wolf, AsAmNews Staff Writer
About five months ago I arrived in Jishou, China to begin my Princeton in Asia fellowship teaching English at Jishou Teachers' College. I am now back in Portland, Oregon for five weeks, while my students prepare to celebrate the New Year with their families.
With most experiences, there are highlights as well as challenges, and this fellowship has been no different. After a few weeks of reflection, I've boiled down my top 10 roses and thorns of life in China to this.
5 Things to Embrace in Jishou, China
1. The Umbrella
"These umbrellas really keep you dry," my co-fellow said to me as we were walking around campus in the dreary weather reminiscent of my hometown Portland.
They do. Why hasn't this fantastically effective invention caught on in the U.S. yet? For whatever reason, umbrellas are deemed "uncool," and so whenever it's raining, Americans prefer to determinedly trudge through the bad weather becoming wet, cold, and uncomfortable in the process. Although I find that the Chinese often open their umbrellas prematurely (say, before there's any actual rain falling down), I still prefer their tendency to stay warm and dry.
2. The River
Beside campus flows a river which stretches through the city. Sometimes it's a startling green and other days it appears to be a murky brown. I like to walk down the stairs near the school, where there's an old mahjong table. Continuing along this road, I often pass fishermen and women doing their laundry. I sometimes walk from the school to the park this way, where I essentially have to crawl across a narrow pipe to reach my final destination. A series of bridges feature entertaining sculptures, one of them being a smooching couple.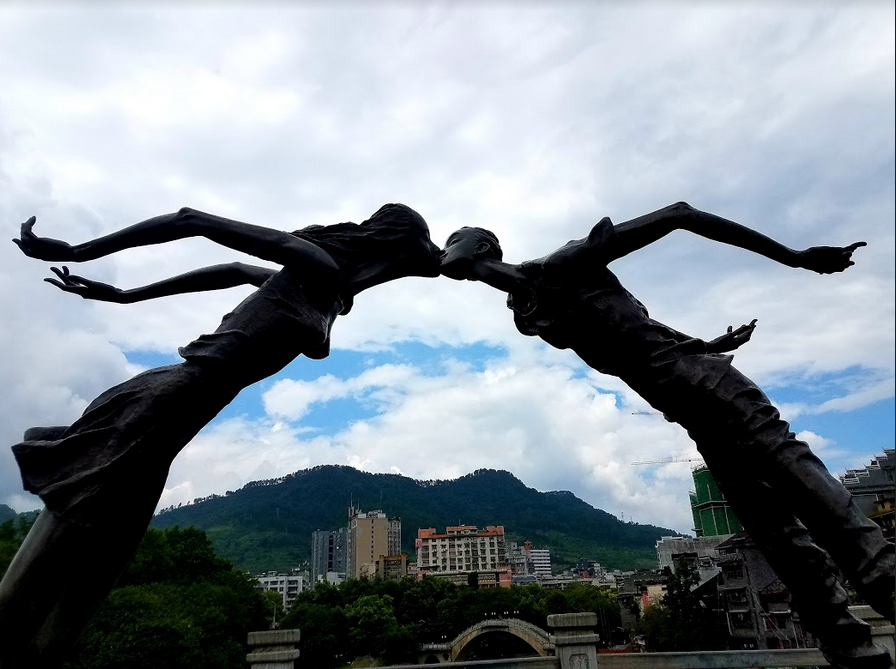 3. Small City Vibes
"That's the American teacher that originally came from Shaoyang," I heard a restaurant owner say to her partner as I walked in for lunch one day. Near campus, everyone knows who you are, even if you've never met (especially if you're a foreigner). While this can sometimes get tiresome, I usually enjoy the intimacy of a small community. Whereas in Shanghai, conversations with strangers were scarce, in Jishou the servers at Ran coffee shop know my winter break plans and the employee at the snack shop is friends with me on WeChat.
4. Warm Water
I completely understand the general American aversion to drinking plain warm water, but it's found a special place in my heart during these cold, heater-less winters in Jishou. It warms the body and always feels more refreshing than coffee or hot chocolate. It's also convenient since there are water coolers in my apartment, the teaching buildings, and many of the restaurants I go to. A common way to keep it from burning the tongue or the plastic of the water bottle is to fill it half with cold water first and then hot water.
5. Street Dogs
I may be the only person in Jishou who would list "street dogs" as a highlight of the city. In my classes of about thirty students, less than five in each said that they "loved dogs." While some of them have been bitten (maybe I should have invested in that pricey rabies shot), I suspect the others may be put off by their tendency to defecate all over the streets. However, I find them rather adorable and surprisingly friendly. I had a plan to semi-adopt one, until a woman on campus claimed that it belonged to somebody else. I had even bought a bag of dog food and treats, which I eventually scattered around the city in January before leaving for America, my Christmas present to the street dogs of Jishou.
5 Challenges of Living in Jishou, China
1. The Language
It's a no-brainer that Mandarin is one of the most difficult languages for native English speakers to learn. Couple this with the fact that each city has its own dialect that can sound unintelligible to the standard tongue, and you end up with major communication challenges. Even my students say that when their roommates from other cities are on the phone with their families, they often can't understand their conversations—great for privacy, a little less helpful for Chinese language learners.
Additionally, maybe over half the people I meet seem surprised when I open my mouth and speak in broken Chinglish. Being Chinese American, most people there assume that I'm a Chinese citizen and can speak fluently. When I tell them that I'm from the U.S., people often look at me confused and make comments like, "but you don't look American" or "no wonder your Chinese isn't very fluent!" Others will heap on the praise for my Chinese abilities as a second language learner or inquire about my family history. These kinds of conversations happen all the time whether I'm standing in line for bubble tea or going to the gym.
2. Isolation
Moving to a new country and not knowing a single person can feel quite lonely at times. An additional language barrier can make it extra challenging to form deep connections with prospective local friends. I have never lived alone before, and I find that I miss coming home after a long day and being able to relax with friends or family. The students often find it strange when they see foreign teachers eating or walking alone. While Americans tend to value their independence and alone time, I can see the appeal to my students' strong and supportive social groups.
3. Dirty Streets
I have more than ruined a couple of my shoes walking around the city. The combination of litter, dog poop, and morning-after baijiu accidents can result in some pretty grimy streets. That being said, after the primary school students trash the neighborhood with their snack wrappers, there is a dedicated team of cleaners who sweep the streets.
4. The Cold
Although it's usually not much colder than 30-40°F, the winters can pose quite a challenge with no heating in the classrooms. Puffy jackets remain on, hot water is doubly consumed, and many of the students and even I sometimes bring an electric "hot water bag" to warm our hands during class. While there's no central heating in my apartment, my bedroom has both a heater and a world class comforter.
5. Large Class Sizes
Class sizes in China tend to be large. I've heard that in some primary schools, there may be as many as 70 students. By the end of my first semester I was teaching five classes of about 30 students each. While I love getting to know so many wonderful people, it's difficult to assess and improve their oral language skills when I'm not even able to converse with each student every class (and I only see them once or twice a week). The upside is that with a good class atmosphere, the students are very lively during group projects and will take the initiative to help each other out.
Of course there is so much to experience while working in a new country, and I couldn't possibly have covered even a tenth of what's made teaching in Jishou, China the experience that it's been, but—it's a start. Hunan's spicy specialty food, the charming piano rooms on campus, VPN issues, and unstable Internet all could have had more prominent positions on the list. For now, these ten are what's stood out to me the most. Looking forward to spring semester and the next chapter of this fellowship!
AsAmNews has Asian America in its heart. We're an all-volunteer effort of dedicated staff and interns. Check out our Twitter feed and Facebook page for more content. Please consider interning, joining our staff or submitting a story.