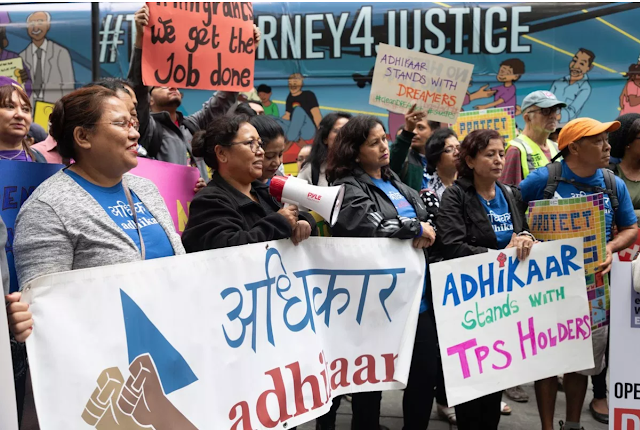 The immigration status of Nepalese refugees has been given an extension by the courts and allowed to temporarily remain in the U.S.

The court decided March 12 to allow Nepalese Keshave Bhattarai and his fellow plaintiffs to keep his Temporary Protected Status, which was due to end June 24, 2019.

"I feel like I've been sick and this agreement is a few drops of medicine. If approved by the court, it means the government can't end TPS for Nepal and Honduras until the appeals court decides whether the Trump Administration's previous TPS terminations violated the law, said Bhattarai, whose name is affixed to the case – Bhattarai v. Nielsen – challenging the Trump administration's immigration polices. Kristen Nielsen is the director of Homeland Security.

"It gives us all some breathing room to call on Congress to give us what we really need: permanent protection for TPS holders," he said.

Bhattarai's case hinges on whatever the court rules on Ramos v. Nielsen, another TPS case

Under the agreement, TPS for Nepal and Honduras — slated to end on June 24, 2019 and January 5, 2020, respectively — would remain in place at least until the appeal in Ramos v. Nielsen, another TPS case, is decided.

The district court in Ramos previously found substantial evidence that the terminations of TPS for Sudan, Nicaragua, El Salvador, and Haiti were motivated by the Trump Administration's racism against non-white, non-European immigrants, and also that the terminations violated the Administrative Procedure Act.

Plaintiffs in Bhattara raised similar challenges to the termination of TPS for Honduras and Nepal. The Ramos decision is currently on appeal to the Ninth Circuit. A hearing is expected sometime this summer, with a decision to follow.

A devastating 7.8-magnitude earthquake had leveled their home in Kathmandu, Nepal in 2015. After living in a tent amidst the rubble of what used to be his home, Bhattaria was able to get tourist visas to the U.S. for his family. His son was already in the U.S. studying medicine. In June of 2015, the Obama administration announced that Nepalis were eligible for Temporary Protected Status, a special legal protection that allows people from certain countries grappling with the aftermath of a natural disaster or other catastrophic event to live in the US. Bhattarai and his wife promptly applied, becoming two of about 15,000 Nepalis to obtain the legal status.
With Nepal still reeling from the twin natural disasters, Bhattali and seven other plaintiffs are seeking to remain in the U.S. until it is safe to return to their homes in Nepal.

According to eyewitness accounts, Nepal has not recovered from the earthquake and a flood that occurred in 2017. A report last year from Adhikaar, a New York-based Nepali advocacy group, and the Catholic Legal Immigration Network concluded that "conditions in Nepal remain dangerous and unstable with no possibility of the country being able to safely absorb TPS holders."
"We are pleased the government agreed to this interim measure, but we know that justice for TPS holders and their families must ultimately come through Congress, which should pass legislation providing lawful permanent residence to these people, who have contributed so much to our society," said Ahilan Arulanantham, Senior Counsel at the ACLU of Southern California.
AsAmNews has Asian America in its heart. We're an all-volunteer effort of dedicated staff and interns. Check out our Twitter feed and .Facebook page for more content. Please consider interning, joining our staff or submitting a story