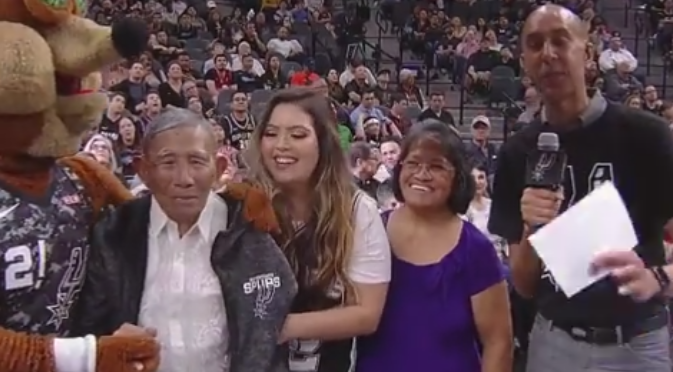 The smile on Liban Brillantes face said it all. Walked out to center court by the San Antonio Spur mascot and his family, Brillantes basked in the glow of a standing ovation from the military night crowd at the AT&T Center in San Antonio.
Brillantes served as a soldier in the US Army during World War II, reports Coconuts.
He gained the trust of the Japanese enemy and sent them in the opposite direction of the American soldiers.
"I feel good that I was able to do service to my countrymen and America," Brillantes said to the San Antonio Express.
The veteran is a huge Spurs fan and spent his recent birthday at a Spurs game. He's known about this honor for several months. His granddaughter said he was like a child at Christmas.
"When he heard it, he said, 'When are we going?! When are we going?!'" said Precious Joy Ross.

AsAmNews has Asian America in its heart. We're an all-volunteer effort of dedicated staff and interns. Check out our Twitter feed and Facebook page for more content. Please consider interning, joining our staff or submitting a story