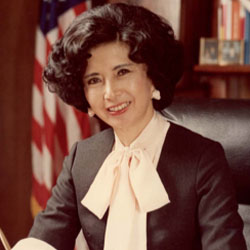 On Monday afternoon, the California Secretary of State building in Sacramento was renamed after former secretary of state March Fong Eu in a dedication ceremony. The current secretary of state, Alex Padilla, unveiled a new plaque in her honor alongside her daughter Suyin Stein.
Fong Eu was the first Asian American to serve in the California State legislature. She served four terms from 1966 to 1975. In 1974, she began her twenty-year tenure as secretary of state. Ever the trailblazer, she became the first woman to serve as California's secretary of state.
Fong Eu is the first woman to have a state building named after her.
Fong Eu passed away in December 2017 at the age of 1995. According to SFGate, Padilla announced at Fong Eu's funeral that he wanted to have the secretary of state building in Sacramento named after her, calling the former secretary of state an inspiration. Last Friday, the secretary of state's office announced that it would name its building after Fong EU. Monday's dedication ceremony made it official.
Several state representatives and leaders attended the dedication ceremony.
AsAmNews has Asian America in its heart. We're an all-volunteer effort of dedicated staff and interns. Check out our Twitter feed and Facebook page for more content. Please consider interning, joining our staff or submitting a story.