By Jana Monji
The 35th annual Los Angeles Asian Pacific Film Festival opens tonight with a world premiere film, Yellow Rose, featuring two Broadway actresses and a country music star, Dale Watson.
The title refers to both the traditional American folk song, The Yellow Rose of Texas, and a 17-year-old Filipino American in Texas, Rose Garcia (Tony nominated Eva Noblezada). Rose's mother Gail (Tony Award winner Lea Salonga) works cleaning a one-star hotel while her daughter attends school and dreams of being a country music star. Gail gets rounded up by the Immigration and Customs Enforcement just as Rose and her friend from the guitar store, Elliot Blatnik (Liam Booth), are returning from a road trip to Austin's live music scene. Elliot helps Rose flee and she must find a way to survive as her mother faces deportation.
Yellow Rose is a charming movie with music that features two generations of Miss Saigon lead actresses, Noblezada and Salonga. I'm not familiar with country music, but you don't have to appreciate that musical genre to enjoy this film. Watson comes across as sincere and his voice blends well with Noblezada's. If you learned The Yellow Rose in Texas in school or heard it in the movies, you might not know that originally the yellow was a reference to a person of color. Director and co-writer Diane Paragas, was raised in Lubbock, Texas and gives us a non-political non-partisan view of one illegal immigrant family. Rose doesn't meet any sleazy promoters or creepy mentors, making this more of an easy-going adult fairy tale.
Yellow Rose is a gala presentation at the Aratani Theatre at JACCC, 7 p.m.
Friday, the three finalists of HBO's Asian Pacific American Visionaries short film competition will make their world premieres. HBO Visionaries ambassador Sujata Day will announce the winner after the screening of a segment of Insecure, Issa Rae and Larry Wilmore's HBO Now critically acclaimed series about awkward experiences of African American women.
In co-directors/writers Nirav Bhakta and Gayatri Bajpai's Halwa is about a woman, Sujata (Lee Kumari), who suffers in solitude as she prepares for her wedding anniversary to her abusive husband, Dr. Chopra (Asit Kumar Vyas). Unexpectedly, she gets back in touch with a childhood best friend Premila (Sonal She) and remembers a simpler, happier time.
Bhakta and Bajpai's piece is a sensitive look at a woman timidly venturing to break her isolation through social media.
Writer/director So Young Shelly Yo uses simplistic special effects in Moonwalk With Me to portray the plight of a Korean American girl, Juno (Carrie Kim), whose father has a wanderlust. Juno explanation for his disappearances are fanciful and the style special effects clearly mark the reality of the situation.
Writers/directors Welsey Chan and Julie Zhan, look at the different types of love in Zoetic. An adult daughter, Emma (Zhan), urges her 60-year-old widowed Chinese immigrant mother, Jackie (Ling Yuen), to take time to think about herself and look for romance, even as she cares for her elderly parents. Yet it doesn't seem Jackie ever knew passionate love. As we go through the different types of Greek love, one wonders if one can be happy not experiencing all aspects of love.
The HBO Asian Pacific American Visionaries finalists program will be held at the Pacific Design Center at the Silver Screen Theater (8687 Melrose Ave, West Hollywood). Red carpet arrivals from 6 p.m. Program stars at 7 p.m. Panel discussion with the directors after the screenings. After-party follows.
Go Back to Chinais a slur that gets slung at Chinese-American Sasha Li (Anna Akana) after a disastrous interview. Sasha is a crazy rich Asian girl, making this modern fairy tale about a daughter reconnecting with her money-bags father. Sasha has finished fashion school, but has no experience and can't find a job, but that doesn't slow her down. After a failed interview, she goes shopping. She celebrates her birthday at a night club. When her father, Teddy Li (Richard Ng), cuts her off, she's forced to go back to China and work at her father's toy factory.
Teddy seems inoffensive, but he's the creepy father you shouldn't introduce to your friends. His current mistress is younger than Sasha and Sasha's mother, May (Kelly Hu), was his mistress while he was still married to older half-sister Carol's mother. Carol (Lynn Chen) has already put in about a decade at the toy factory and gives Sasha the low-down, seemingly with little resentment.
Writer/director Emily Ting has written something for the social media set, starring a YouTube success story (Akana) so fittingly there's a social media solution. This is a fluffy lightweight look a difficult blended family, neatly presented with a happy ending.
Go Back to China premiered at the South by Southwest Film Festival and screens at the Aratani Theatre at JACCC on Saturday, 4 May 2019 at 5 p.m. In Chinese and English with English subtitles.
Happy Cleaners
Despite the title, Happy Cleaners, this family drama is about a far from happy family. The father and mother have been working at a cleaning shop for 17 years–a decade of that as owners. Directors/writers Julian Kim and Peter S. Lee film boldly displays the fractious nature of a family business. Dad (Charles Ryu) is a quiet man; Mom (a dynamic Hyang-Hwa Lim) is angry and grasping. She's angry that her daughter, Hyunny (Yeena Sung) is dating a college drop out, Danny (Donald Chang). She's angry that her own son Kevin (Yun Jeong) dropped out of college and wants to fly to Los Angeles. She's angry that her husband insists on fixing the broiler by himself. Everyone, except Grandma works and contribute to the home economy but that doesn't seem to be enough. Yet Kim and Lee capture the beauty of meal time, some artfully made dishes, and the care and trouble Grandma (Jaehee Wilder) takes to contribute to meals.
There's a more visceral reality to Happy Cleaners family in comparison with Go Back to China and Kim and Lee refuse to tie up all the loose ends into a neat package.
Happy Cleanersscreens at the Regal LA Live: A Barco Innovation Center on Wednesday, 8 May 2019, 9:15 p.m. It will also screen 11 May at CAAM. In Korean and English with English subtitles.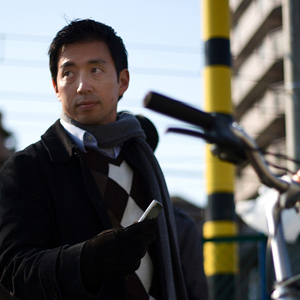 Dog lovers might be heartbroken by director Dean Yamada's Anjing (The Dogs) which explores the different lives between the rich and the poor in Indonesia through the fate of two dogs: Kalenge and Kandi. Kaleng is a small boy's best friend, but when a gang of boys start teasing the dog one of the other boys gets injured and that boy's father demands money for medical treatment. Kandi belongs to an upper middle class family whose housekeeper accidentally allows the dog to escape in the streets. Be forewarned–both dogs do not survive.
Anjing makes its world premiere at the Tateuchi Democracy Forum at JANM, Friday, 3 May 2019 at 9 p.m. Indonesian with English subtitles.
Eating Up Easter illustrates the global need for sustainability in the microcosm of what most people know as Easter Island. Narrating this film as a message to his newborn son, native Papanui filmmaker Sergio M. Rapu examines how the possible US space shuttle landing brought an improved airstrip and unintentionally brought an influx of tourists to this small island. Through the island's main industry of tourism, the Rapanui people benefit–with a higher monthly average income than the people in Chile , but they must deal with the waste brought from the mainland. As his Rapu's father works on the island's first mall which will likely launch even more consumer-related problems while another islander handles the issues of recycling. A husband and wife team attempt to build a music center to improve community relations and preserve old songs and music.
Eating Up Easter screens on 4 May 2019 at LAAPFF (Tateuchi Democracy Forum @JANM, 11 a.m.) and on 10 May 2019 at CAAMFest (5:30 p.m. at the New People Cinema).
AsAmNews has Asian America in its heart. We're an all-volunteer effort of dedicated staff and interns. Check out our Twitter feed and Facebook page for more content. Please consider interning, joining our staff or submitting a story