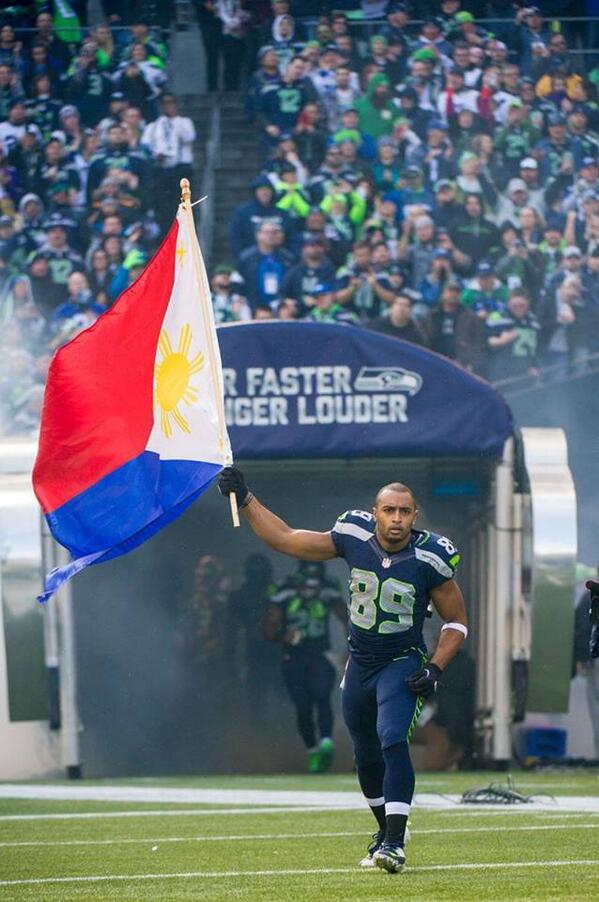 When Doug Baldwin came running onto the field carrying the Philippine flag, I couldn't suppress an involuntary cheer. "Yesssss!"


The Seahawks parted ways with a pair of franchise icons who helped bring a Lombardi Trophy, two NFC championships and multiple playoff berths to Seattle, terminating the contracts of receiver Doug Baldwin and safety Kam Chancellor with failed physical designations, according to the Seahawks.

Baldwin, a proud Filipino American, belongs in the same category as Los Angeles Rams quarterback Roman Gabriel and Pittsburgh Steelers Hines Ward as three of the best Asian Americans to ever play football at the professional level.

While Chancellor's release was expected, fans still hoped that Baldwin would recover from an injury-riddled season and play for the Seahawks again.

There are plenty of photos of Baldwin catching the ball, running up field eluding tacklers, jumping high to make an impossible catch, but the photo of him carrying that flag is my favorite.

"The Seahawks have made the difficult decision to terminate/failed physical Doug Baldwin and Kam Chancellor," Seahawks general manager John Schneider said. "These are two of the most iconic players in franchise history and both were instrumental in establishing our championship culture, great examples of competitiveness and leadership on the field and in the community. These legendary players will always be a part of our Seahawks family."
The Hawks posted a video tribute to Baldwin on YouTube.
Baldwin, a difference-maker both on and off the field, didn't just make the roster as an undrafted rookie in 2011, he went on to lead the Seahawks in receptions, receiving yards and receiving touchdowns that year. Over the course of eight seasons, Baldwin set the franchise record for touchdown catches in a season with 14 in 2015, and matched the team record for receptions in a season with 94 in 2016.



A two-time Pro-Bowler, Baldwin's 49 career receiving touchdowns are second only to Hall of Famer Steve Largent in franchise history, and his 493 catches and receiving 6,563 yards rank third behind Largent and Brian Blades.

Thursday's release is "likely the end of the road" for Baldwin, NFL Network Insider Ian Rapoport reported, solely due to health-related issues. In addition to the groin injury suffered this season, Baldwin battled knee and shoulder ailments.


The release of both Baldwin and Chancellor may mark the end of an era for the Seahawks during which the Seattle franchise was considered among the elite teams in the National Football League.
AsAmNews has Asian America in its heart. We're an all-volunteer effort of dedicated staff and interns. Check out our Twitter feed and Facebook page for more content. Please consider interning, joining our staff or submitting a story