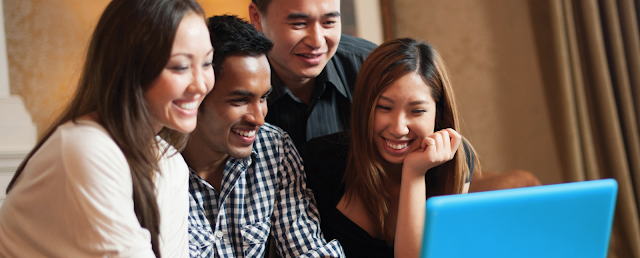 Asian Americans are heavily linked to the internet and most likely to use smart phones and computers to learn about products and services before purchasing them and then use those devices to tell friends and relatives about those purchases.

For several years in a row, Nielsen surveys have issued reports on the growing influence of Asian Americans in the American marketplace, as consumers and trendsetters. This year's report reinforces those roles.

Nielsen unveiled its "Informed Influencers and Powerful Purchasers" report of the 22.6-million Asian American market, a demographic that it believes "offers unparalleled marketing opportunity for business and brands."
Mariko Carpenter, VP-strategic community alliances, presented some key findings during a Thursday (May 9) luncheon at the New York Stock Exchange.
She mentioned that Asian Americans have moved into the national spotlight following success of the movie Crazy Rich Asians, Sandra Oh's "It's an honor just to be an Asian" declaration during the Emmys, New York Fashion Week's first-ever all-Asian runway show by designer Claudia Li and a Hmong-American baby beating out 544K others to notch the 2019 "Gerber Baby of the Year" contest. Asian Americans also turned out in record numbers during the November election.
Nielsen believes those dramatic cultural touchstones show that Asian Americans are a key force shaping the country's mainstream.
Asian Americans are the fastest-growth ethnic or racial group in the U.S., combining for $1-trillion in buying power. That buying power will grow to $1.3T in 2023, "with a powerful long tail of younger and bigger spenders," says the Report.
Nielsen calls the Asian American group "tech-enabled, digitally vocal influencers with immense spending power, which has risen 68 percent since 2010 (vs. 32 percent for the total U.S.).
They have the highest level of internet connectivity, connecting to TV through broadband and subscription video on demand faster than the general population, according to Nielsen.
Asian Americans represent more than two dozen countries and are "expert navigators between the influences of the native cultures and those of mainstream America."
READ the report at www.nielsen.com/AsianAmericans.
Asian Americans' economic impact is greater than their numbers might indicate within the overall American market. They owe their undue influence because of their devotion to their digital devices, says the report.Before looking into this group's specific tech behavior, it's important to note just how fast the Asian American population is growing, as well as how much spending power it has—and will have going forward. Notably, Asian Americans have grown in population by 7 million people in the last decade alone, the most of any ethnic or racial group in the U.S. That increase represents a 45% uptick, significantly outpacing the 8% growth of the total U.S. population.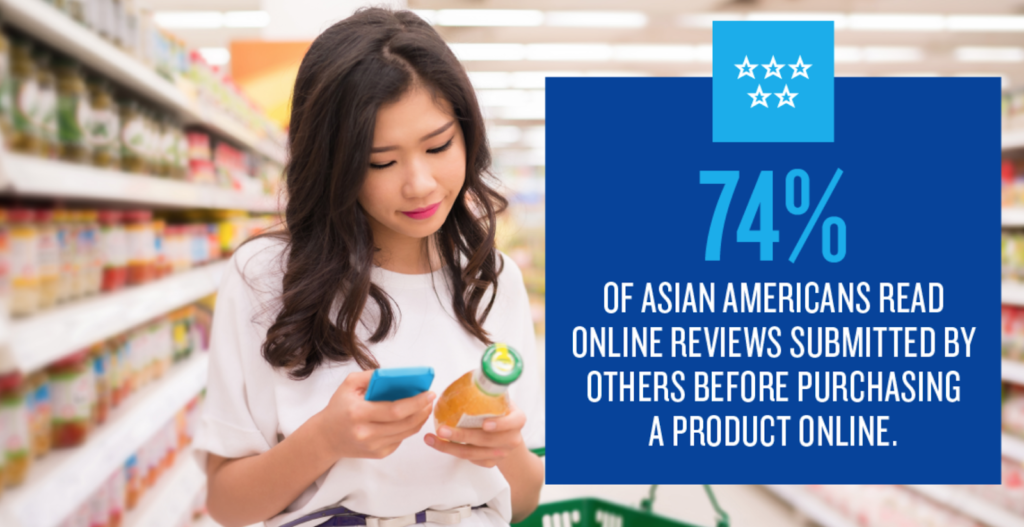 In addition to growing as a demographic, Asian American households are markedly bigger than the U.S. average—17% bigger, in fact. Their greater household size contributes to Asian Americans' household income. In fact, Asian American households boast the highest incomes of any racial or ethnic group in the U.S.—incomes that have boosted the buying power of Asian Americans by 68% since 2010. And it's not going to slow down: We expect Asian Americans' buying power to increase to $1.3 trillion by 2023.
Because Asian Americans are so connected, the overall reach of internet-connected devices among them is 22% higher than among the general public. For example, Asian Americans are 21% more likely to watch a video on a computer than the general public and they are 24% more likely to use social media networks on a computer.

Among this demographic, the reach of video on a computer, social networking on a computer, and internet on a computer is 21%, 24% and 15% higher than the average U.S. consumer, respectively.
Overall, 97% of Asian American households have a smartphone and 89% have a computer, out-networking the average U.S. household by 6% and 13%, respectively.

Asian Americans' usage of internet-connected devices outpaces the average U.S. consumer.  Bearing this out, 87% of Asian Americans report having made an online purchase in the last 12 months, which is 22% higher than the average U.S. consumer.
"The Asian American path to purchase is a unique journey that's informed by a rich cultural heritage, as well as the latest advancements in technology," notes Carpenter in the new report.

As such, Carpenter believes Asian Americans are playing key roles in shaping the next generation of retail and e-commerce trends.

Asian Americans' purchasing habits is a social experience, often depending on recommendations or endorsements of friends, relatives or review found on the Internet.

53% of Asian Americans agree with the statement: "My spouse has a significant impact on the brands I choose," while 42% cite the influence of their children
29% of Asian Americans agree with the statement: "I prefer to buy things my friends or neighbors would approve of" — 15% higher than the average U.S. consumer.
32% of Asian Americans agree they "like to share my opinions about products/services by posting reviews and ratings online."
71% of Asian Americans say they recommend food products,
68% recommend automobiles
43% say they share their opinions regarding the latest consumer technologies.
AsAmNews has Asian America in its heart. We're an all-volunteer effort of dedicated staff and interns. Check out our Twitter feed and Facebook page for more content. Please consider interning, joining our staff or submitting a story