By Jana Monji
Episode 6 of Cinemax' Warrior, Chewed Up, Spit Out and Stepped On marks the point of no return. The tong wars begin and Sergeant Bill O'Hara (Kieran Bew) loses his soul. This new beginning happens on New Year–the Chinese New Year.
Chinatown's residents and a few outsiders are enjoying a Chinese New Year parade while Ah Sahm (Andrew Koji) and Penelope (Joanna Vanderham) is having a lusty romantic tryst at her artist studio. The parade route first through the Long Zii (Henry Yuk) territory where Li Yong (Joe Taslim) passes dynamite to a member of the Fung Hai. Two of the Fung Hai follow the parade into Hong Wei territory and then throw the lit dynamite sticks at Father Jun (Perry Yung). Young Jun's (Jason Tobin) quick thinking saves Father Jun (Perry Young), but a White woman, one of five being given a tour of Chinatown by Wang Chao (Hoon Lee), dies.
Ah Sahm (Andrew Koji) has escaped the assassination attempt, but he's still in a dangerous position, now carrying on a love affair with the mayor's wife. Through her, we learn his story. Ah Sahm would go around challenging other guys to fight. That wasn't particularly unusual, but one guy fell, hit his head and died. That young man's father was a warlord who threatened to kill Ah Sahm and take his father's farm. Ah Sahm's sister offered to marry him. "She gave up her life and married the old man to save me." Ah Sahm adds, "I guess it never occurred to me that she was the one that needed to be saved."
"We can do that, women. Save ourselves," Penelope reminds him.
If you recall in Episode 4, The White Mountain, while Ah Sahm's sister wanted Ah Sahm to go back home and even gave him a ticket, Ah Sahm was determined not to make the same mistake and this time he wants to save his sister.
In another part of town, Bill O'Hara returns home, looking dirty and bruised because he was monitoring the parade in Chinatown and close to the explosion. He finds Jack Damon (Brendan Sean Murray) waiting for him. Three weeks have passed since the end of Episode 4.  Damon tells O'Hara, "Your three weeks are up. You either have it or the White mountain awaits." O'Hara makes arrangements to meet at the Banshee at 10 p.m.
At the police station, Richard Lee has figured out the territories of the Long Zii and is the only one aware that a third tong is involved, but O'Hara says, "Who gives a sh*t?…A Chink is a Chink; a criminal is a criminal.". O'Hara tells Lee to sit on his porch with a shotgun and that he will be back before dawn.
Yet as O'Hara said before, the police are pawns in a game and we learn who is behind much of the machinations. Senator Robert Crestwood (Patrick Baladi) meets with Mayor Blake (Christian McKay). Crestwood wants Blake to do "what needs to be done" and reminds Blake that "It will not look good for me to have American citizens slaughtered in my own state." Crestwood is really working with the mayor's assistant, Walter Buckley (Langley Kirkwood). Crestwood plans to run for president using yellow perilism as part of his campaign and has promised to take Buckley with him to the White House. Remember, Buckley is working with Mai Ling, the wife of Long Zii.
At the Long Zii headquarters, Long Zii notes that "this attack on Father Jun was unprecedented. Until we know who, we have to assumed we're all targets" but Mai Ling and Li Yung look at each other behind his back. The threesome of Young Jun (Jason Tobin), Ah Sahm (Andrew Koji) and Bolo (Rich Ting) have already staged a raid on the Fung Hai and deposit a Fung Hai corpse in the street in front of the Long Zii headquarters. Long Zii asks Mai Ling what has she done.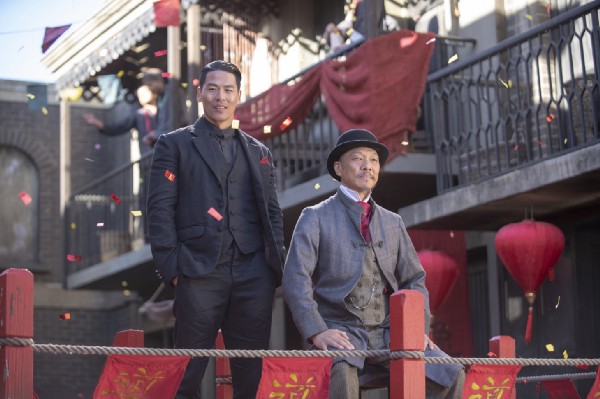 Although Father Jun and Long Zii arrange to meet at a Buddhist temple and speak together quietly, Long Zii understands that they mean to kill him. That fight will wait until another episode though.
Back at The Banshee, Bill O'Hara asks Dylan Leary (Dean Jagger) for a loan. "Even a blind dog learns after a few beatings," Leary tells him turning him down. "I'm not vouching for you Bill. God knows you're a bad bet." O'Hara reveals that Damon is working for the Fung Hai to Chinese-hating Leary. Leary gives O'Hara the money, but when Damon tries to leave with it Leary challenges him to a fight. The fight is taken outside, but quickly gets ugly and Damon's trash talk doesn't make it any better. Leary beats Damon so badly that O'Hara begs him to stop before he kills Damon. Leary insists that O'Hara kill Damon. O'Hara does, and returns home to meet Lee who tells him, "You looked chewed up, stepped on and spit on." Lee doesn't ask what happened, but O'Hara's wife knows something is horribly wrong. O'Hara can't talk to his wife, but O'Hara goes into the bedroom and shuts the door. Sliding down onto the floor, O'Hara breaks down and weeps.
This is an episode of unhappy wives and men becoming further entrapped by cycles of violence. Things are not going to end well but before the tong wars get serious, we're going to learn a little bit more about Lee, something foreshadowed in this episode.
AsAmNews has Asian America in its heart. We're an all-volunteer effort of dedicated staff and interns. Check out our Twitter feed and Facebook page for more content. Please consider interning, joining our staff or submitting a story