By Louis Chan, AsAmNews National Correspondent
Sometimes you just need an escape from reality. That's what the romance film, The Sun is Also a Star, will provide movie-goers leading up to the summer.
AsAmNews joined actors Charles Melton (Riverdale) and Jake Choi (Single Parents) at the Fairmont Hotel in San Francisco where the film will premiere at CAAMFEST tomorrow. It debuts nationwide this Friday from Warner Bros.
As this reporter walked into the suite overlooking the San Francisco Bay, author Nicola Yoon was leaving to catch a flight. She didn't exit, however, before giving star Melton a long embrace. Choi gave her an even longer hug.
She stayed long enough to answer two quick questions. She confirmed that her best selling young adult novel with the same title as the movie is based in part her own life. Like Natasha Kingsley (Yara Shahidi from Grown-ish), she too is Jamaican American. Like Daniel Bae (Melton), her husband is Korean American.
"It was very deliberate. I was conscious of it. When I was writing it, I remember asking my husband. Should I do this? 'Well, everyone else gets to write themselves into the story. So why can't we?' So I did," she said to AsAmNews. Yoon added she received no push back from her publisher, Delacorte Press. The book sales have reward Delacorte handsomely.
Speaking of handsome, it hasn't been lost on Melton he's getting the rare opportunity to play the male lead in a romance.
"To see not only that, but to see a character that embodies a full masculinity, it's very endearing. It's very aspirational. It's a love story," he told me. "The way Daniel is its like it's great that he's Asian. People will be able to connect to that . He's also like the modern man- to be open, to be a hopeless romantic. It's an honor."
Skeptics have pointed out both Melton and Henry Golding of Crazy Rich Asians are both Asian Americans of mixed heritage. These critics suggest if both weren't half White, neither would have gotten the roles.
Melton paused when I brought that up, slouching on the couch comfortably with Choi by his side. He momentarily rested his head on Choi's shoulder. Both in unison called diversity "complicated."
"How exclusive do they want to be with diversity," Melton said. "Like what makes me Asian? My mother immigrated from Korea to America. I learned Korean and English growing up at home. So me not being Asian enough? Me not being White enough? I think its all bull sh*t, to be honest . Yeah, I'm Asian and I'm a third culture kid. I lived in Korea. How do you measure someone's Asianness?"
As I waited for the movie to open at a preview the night before, the conversation among many of the women patrons turned to Melton's look.
"Yeah, that's why I'm here, one mentioned as she called him "good looking."
"Yes, he's handsome, " another one said.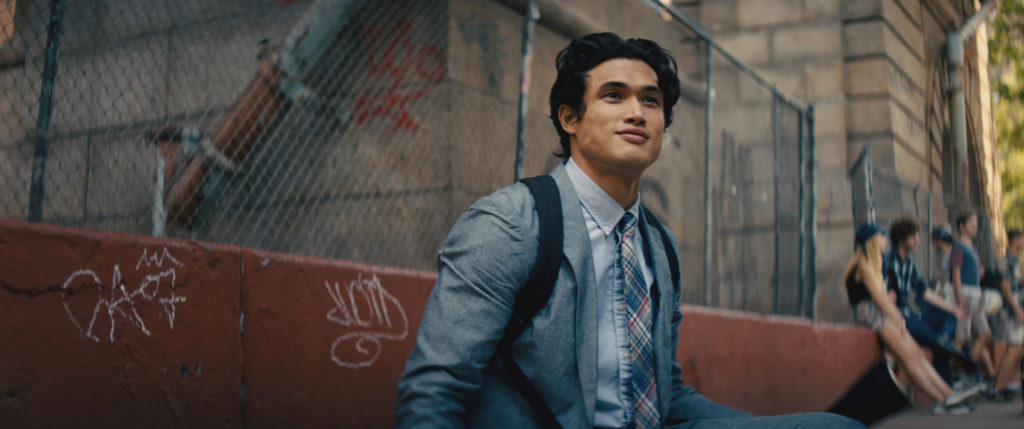 Melton plays Daniel Bae, a college student hoping to get into medical school at Dartmouth College. Before he can get to his alumni interview, he spots Natasha. Infatuated, he follows her convinced it's fate that he saw her. Natasha is lost in her headphones and isn't paying attention to traffic. Daniel tackles her to the ground before she is hit by an oncoming car.
Daniel may be the pre-med student, but it's Natasha whose into empirical evidence. She doesn't think its possible to fall in love. Daniel sets out to prove her wrong, saying he'll get her to fall in love with him in 24 hours.
That kind of plot can't work without chemistry. The two definitely had it.
"When it came to playing these characters, there's this unspoken stuff. She's Natasha and I'm Daniel and I didn't see her as Yara. In the film I saw her as Natasha. I was in it to live it. More than just action, cut. It's very real, very beautiful," he said.
Jake Choi plays Daniel's older brother, Charles. To put in bluntly, Charles is an ass. He's the underachiever in the family, especially compared to Daniel, who's being considered by some of the best medical schools for admittance.
"All those jokes and , being an as*hole, very cruel and sarcastic comes from somewhere deeper," Choi explained to AsAmNews. "It comes from a lot of resentment and frustration and jealousy that's been pent up. Sort of repressed. There is a word that Daniel calls me in the movie that triggers all those emotions and that's where you get the whole blow up. It comes from somewhere darker and deeper."
In real life, Choi has a younger brother who he fought with often. However, he describes both of them as the black sheep of the family.
Choi and Melton have one intense scene together that is one of the highlights of the film.
"It's a very climatic kind of scene," Choi said. "It brought a lot of conflict to the movie. It's a tough scene, but it's a great scene."
"Our scenes (pointing to Jake) that we had were raw," We're not worried about the camera angles . We just worry about the characters that we embody. It's a great process. It a great project to be a part of," Melton added.
On a lighter note, on the set, Melton says he enjoys getting worked on with a massage gun by his personal trainer.
"It's great," Choi interrupted.
"I'm getting jealous because he's massaging you," responded Melton.
"It felt awesome," Choi said.
ABC has renewed Single Parents for a second season in which he plays the role of Miggy, the youngest in a group of parent-friends.
Melton just wrapped up filming of season 4 of Riverdale which will air at the end of the summer on CW. He also has a role in Bad Boys 3.

AsAmNews has Asian America in its heart. We're an all-volunteer effort of dedicated staff and interns. Check out our Twitter feed and Facebook page for more content. Please consider interning, joining our staff or submitting a story