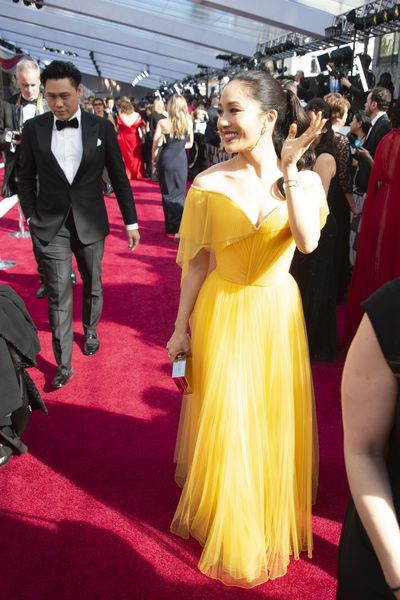 Media coverage of Constance Wu's negative reaction on social media after the renewal of Fresh Off the Boat has painted her as a diva.
A headline in Slate reads "In Constance Wu, Asian Americans finally have a diva to call our own." We now know a bit more about what sparked the social media uproar.
Page Six reports the renewal of FOTB could cost Wu the role of an addict who goes in search with her estranged sister for their mother. The film, You and Me Both, is from writer-director Jennifer Cho Suhr.
Season six of Fresh off the Boat remained a question mark until days before the upfronts when ABC announced FOTB would air next season at 8:30/7:30 Central on Friday nights. With the program at the time in jeopardy, Wu received the offer to do the movie. Now that offer is up in the air as the shooting schedule for the movie would have to be delayed until a break in shooting FOTB.
After the ABC announcement, Wu tweeted "So upset right now that I'm literally crying. Ugh. F- -k." The next day she apologized to the cast, crew and fans of her groundbreaking show saying "temporarily upset . . . not because I hate the show but [because] its renewal meant I had to give up another project that I was really passionate about."
Wu saw You and Me Both as an opportunity to redefine the roles Asian American actors are given.
"[Wu can] show that there are multiple faces to being an Asian American," said William Yu, a creative strategist and screenwriter, told Page Six. "And for so long, this has not been reflected on camera, with Asian Americans being relegated to either the sidekick or emasculated buddy who doesn't contribute to the narrative in any real way."
Yu is the social media strategist whose hashtag #starringJohnCho inspired a conversation about the lack of Asian American leading men and women.
Since Wu's outburst on social media, stories have emerged that her on set behavior at Fresh Off the Boat, Crazy Rich Asians and Hustlers have lead to tensions and isolated her from the others.
Wu still hopes to work out the scheduling issue and still shoot You and Me Both.
AsAmNews has Asian America in its heart. We're an all-volunteer effort of dedicated staff and interns. Check out our Twitter feed and Facebook page for more content. Please consider interning, joining our staff or submitting a story