By Rachel Chou, AsAmNews Intern
When Randall Peltzer stumbles into a Chinatown antique store in the 1984 movie Gremlins, he emerges with a Mogwai, an ancient Chinese creature that ultimately ruins Christmas. At the Pearl River Mart in NYC's Chinatown, the old Hollywood trope of finding secret spaces deep within Chinatown rings true. In an upper alcove, you can find what may look like a shrine to John Cho.
The full multimedia exhibit #StarringJohnCho is on view through July 7 with free admission.
If #StarringJohnCho sounds familiar, its because the viral campaign has been circulating around the internet since 2016. The pitch: John Cho's face photo-shopped as the lead character of blockbuster hit movie posters, challenging the idea of casting Asian leads for mainstream movies. It's your therapist showing you a poster of John Cho as Captain America and asking you, how does this make you feel?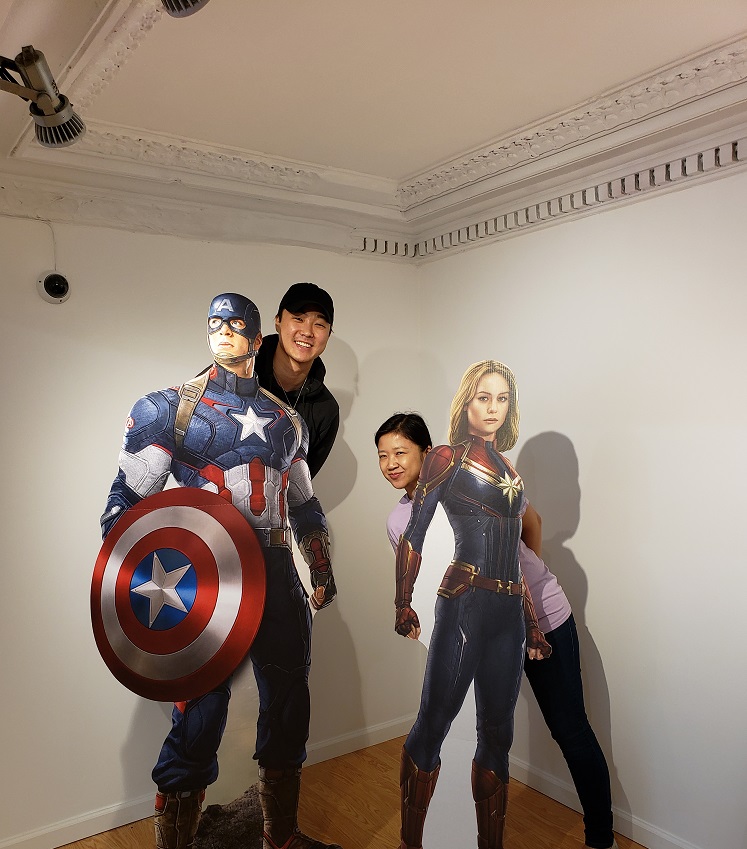 As an actor, John Cho actually has had a prolific career, one in a handful of Asian American actors who have made it into mainstream consciousness prior to Crazy Rich Asians. First gaining recognition with a small part in the American Pie franchise in the late 90's, he went on to co-star in the popular franchise Harold and Kumar as Harold. In 2014 he became the first Asian American to play a romantic lead in a U.S. television series in Selfie, a short lived ABC sitcom, and in 2018 he starred in the film Searching, becoming the first Asian American actor to headline a mainstream thriller. But the point of #StarringJohnCho isn't John Cho, it's an emblem of how much representation in media means to the Asian American community.
William Yu, the creator of #StarringJohnCho and the exhibit says in regards to the lack of Asian representation in Hollywood films, "This was a conversation I had had so many times. And that's where it always ended — in conversation. In the theoretical and abstract. What I wanted to do was physically show this idea to people. For this idea to become more of a reality and to live in the world physically."
The exhibit features another one of Yu's projects, imposing the faces of Asian American actors such as Constance Wu, Arden Cho, Steven Yeun as leads in scenes of popular movies such as The Hunger Games, Silver Lining Playbook, and 50/50. There's also an immersive element and a John Cho mural created by Loren Yeung.
"We're excited and honored to be the first gallery to show William's work in a way that translates his vision into an immersive experience," said Joanne Kwong, President of Pearl River Mart and gallery curator. Pearl River Mart houses one of the only permanent galleries in NYC dedicated to the Asian American community, a staple of downtown Manhattan since 1971.
As for what John Cho himself thinks of the campaign? In a NYtimes interview he said, "I'm sure to some extent #StarringJohnCho is a result of attitudes that were already shifting rather than changing minds on its own. But I'm grateful. I literally never thought I'd see the day."
AsAmNews has Asian America in its heart. We're an all-volunteer effort of dedicated staff and interns. Check out our Twitter feed and Facebook page for more content. Please consider interning, joining our staff or submitting a story.