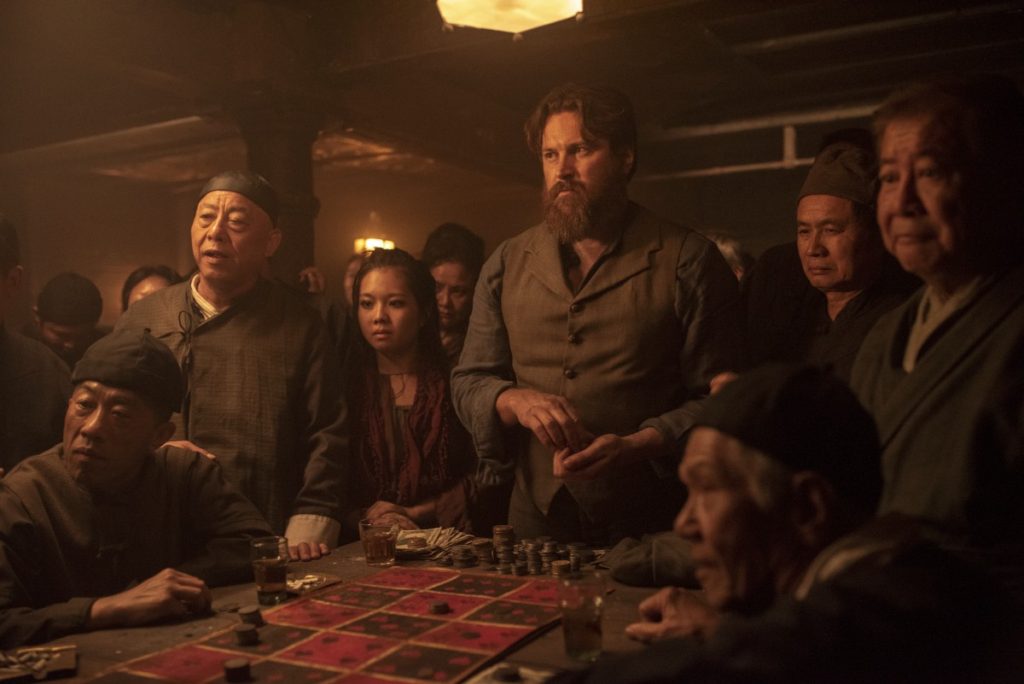 In Season 1, Episode 8 of Cinemax' Warrior, They Don't Pay Use Enough to Think, no one is quite satisfied with what they are getting paid and the people who have the least control aren't being paid enough to think.
Since that line is uttered by the gambling addicted Sergeant Bill O'Hara (Kieran Bew), you have to take that with a grain of salt. We've seen him gambling away a fortune.
The last episode left us with the Hop Wei and the Long Zii facing each other on the streets of Chinatown, rushing into a fight, but the screen went black as the audience heard the sounds of the gruesome battle. In the opening scenes, we rewind and begin at the men facing off and then rushing headlong into each other. This time we get to see the bloody gore.
We see different views of the aftermath. Walter Buckley (Langley Kirkwood) arrives at the Mayor's home and tells him that 11 Chinese men are dead and more are wounded. Buckley urges the mayor, Samuel Blake (Christian McKay) to support Senator Robert Crestwood (Patrick Baladi) and his Chinese Exclusion Act agenda. Penelope (Joanna Vanderham), waking up from a drugged sleep because that's the only way she can have sex with her odious husband, worries about Ah Sahm (Andrew Koji) who didn't show up to their secret meeting at her studio.
At the scene of the crime, O'Hara inspects the slaughter and Richard Lee (Tom Weston-Jones) reports to him that seven of the dead are Long Zii and four are Hop Wei. O'Hara is introduced to the senator who says, "Your Chinatown troubles have caught the ear of Sacramento. I'm here to see how I can help."
O'Hara replies, "Got a shovel?"
Summing up the situations, O'Hara reports, "Two gangs. Eleven dead. No suspects." The senator is using this as an opportunity to get more press and some support for his anti-Chinese sentiments, saying, "The Chinese in San Francisco have shown no regard for the laws of our great nation even as they avail themselves of our freedoms and opportunities." He adds, "This isn't a local problem; it's a national one."
The Hop Wei and Long Zii agree to meet to resolve their differences. Each will select a champion. For the Long Zii, it will be Li Yong (Joe Taslim), the only Long Zii who knows Ah Sahm is Mai Ling's brother and the only Long Zii who knows Mai Ling (Dianne Doan) killed Long Zii (Henry Yuk), her husband. Ah Sahm is selected by Father Jun (Perry Yung) at Young Jun's(Jason Tobin) recommendation and Ah Sahm is the only Hop Wei that knows Mai Ling murdered her husband.
While Lee attempts to identify the dead Chinese through Wang Chao (Hoon Lee) with no success, Bill O'Hara tries to get re-assigned out of Chinatown because "I didn't become a cop to spend my days cleaning blood off the street or become a pawn in some political pissing match." The police chief wonders out loud if Bill has been gambling again and reminds him that the recent clash is a sign of Bill's failure in his position and asks, "You're not asking for reward for failure?" Bill believes that even if he succeeds, they will keep him in Chinatown, but the police chief says, "We're civil servants, Bill, so we serve." Then the police chief jumps on the Buckley bandwagon, "Maybe the exclusion act will pass and the chinks all sail back to Chinatown."
There are other patterns of exclusion already in place. Ah Toy has partnered with the white man Patterson (Frank Rautenbach) to use her money to buy a portfolio of property. Now he reports that two men have discovered their ploy and will sell them the property, but require additional funds.
The two men, Timmons (Dan Robbertse) and McCormick (Nicholas Dallas), don't know that Ah Toy is a vengeful person. After the legal transaction at the bank goes through, these two go back to McCormick's residence for the extortion fee and ask for more than the agreed $5,000, but Ah Toy slays the two in front of a terrified Patterson.
In another part of town, Penelope meets with Ah Sahm and asks why he stood her up. He can't give her specifics and she breaks up with him. This begins his descent into self-pity. Before he leaves, Ah Sahm tells her, "You're the one good thing I've found in this f*cking country."
For Penelope, "It's not enough; I'm the mayor's wife for God's sake" and Ah Sahm is "a criminal."
Back in Chinatown, Wang Chao is putting up a poster for the fight, and even though Lee and O'Hara are walking the streets, because everything is written in Chinese, Lee and O'Hara are totally clueless. When O'Hara and Lee part, a member of the Fung Hai follows him. The man makes the gesture for money and O'Hara beats the man up. Lee hears the ruckus and comes upon them and asks, "What the hell was that?"
O'Hara tells Lee it was a "misunderstanding," but Lee asks, "How much do you owe, Bill?"
O'Hara replies, "I told you. They don't pay us enough." That's both true and untrue. O'Hara knows they are pawns in a political game. Lee suspects something bigger than just a tong turf war. Yet O'Hara has gambled away money and Lee has a price on his head. Later the police chief summons O'Hara and Lee to the beach because a fisherman has found the bodies of Victor Timmons and Lance McCormick, dead from what appear to be sword wounds. Who kills with swords? The police chief suspected the Chinese, perhaps the same assassin or assassins who killed the two drunk Irish men.
So with only two episodes left, we have Li Yong (Joe Taslim) and Ah Sahm preparing for a death match and the fate of the two tongs resting on their shoulders while O'Hara is faced with the Fung Hai calling in his marker.
AsAmNews has Asian America in its heart. We're an all-volunteer effort of dedicated staff and interns. Check out our Twitter feed and Facebook page for more content. Please consider interning, joining our staff or submitting a story