By Louis Chan, AsAmNews National Correspondent
Randall Park and Ali Wong made a surprise appearance at a special screening this week of Neflix' Always By My Maybe in San Francisco.
The sneak preview put on by the Center for Asian American Media, the Asian American Journalists Association, San Francisco and the Ed Lee Asian Pacific Democratic Club attracted a mostly young, female skewing audience in a theater filled to capacity.
The crowd hooted and cheered when Wong, a native San Franciscan and Park, made their appearance. They were joined by director Nanahchka Khan who was also the executive producer of Fresh Off the Boat for its first five seasons. The trio is also a reunion of FOTB cast and crew. Randall stars as Eddie Huang's dad on the program and Wong wrote for the show in its first four seasons.
The romantic comedy stars Park as Marcus and Wong as Sasha-two inseparable childhood friends who did everything together and I mean everything. As often happens in real life, the two go their separate ways until a chance meeting orchestrated by Sasha's girlfriend and special assistant, Veronica, as played by Michelle Buteau. The chemistry begins to ignite, but Marcus doesn't quite know how to tell Sasha he loves her after being friends for so many years.
Wong and Park, who actually have been friends since attending UCLA together, wrote the script, along with Michael Golamco.
"I love Marcus' character, " said Wong. "He was inspired by a lot of guys you grew up with and dated-guys who didn't want to move out of their parent's home because its so expensive, but still manage to have incredible lives."
Park, just like his character, also had a band out of college. The paintings in the movie were those of his real mom, he shared with the audience.
Khan described Sasha's character perfectly, calling her "successful, but still vulnerable, like woman you actually know."
Park shared the movie was inspired by something Wong said during an interview with the New Yorker in 2016, saying the two have been wanted to do their version of Harry Met Sally for years.
"That made it into the article and got picked up by a bunch of online, like Vulture," he said. "It just kind of caught fire online. Then we started getting all these calls for this script. People wanted to read the script and we didn't even have a script. So Ali and I were like, well, let's write the script."
Also joining the cast are Daniel Dae Kim and Keanu Reeves.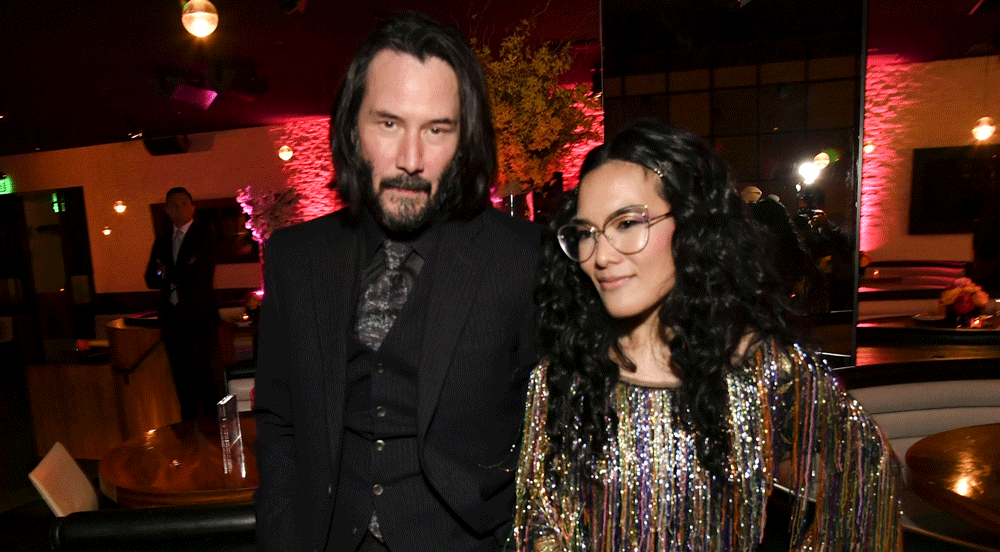 "Daniel Dae Kim is so funny, so handsome," said Khan as Ali let out a squeal. "When he shows up at the restaurant and he greets Ali, we had to do a bunch of different take and Ali was experiencing pure adult women joy," she said to laughter.
For Keanu Reeves part, Wong said they envisioned "an Asian American icon who could act and who is also funny and willing to make fun of himself."
They sent Reeves the script and he made some suggestions. They then wrote some of his suggestions into the script and he agreed to do the film. Some of the funniest scenes in the movie involve Park, Reeves and Wong.
Khan described Park as self-deprecating, recalling the scene when Sasha and Marcus have sex.
Turning to Park she said "Remember that scene after you guys had sex and you're like 'Do you want to airbrush some abs on me?' I was like no. We're OK. I think you look good. Randall is a snack in these treats. So sexy in this movie," she said.
Always Be My Maybe hits theaters nationwide on Thursday, May 30. It begins streaming on Netflix Friday, May 31.
AsAmNews has Asian America in its heart. We're an all-volunteer effort of dedicated staff and interns. Check out our Twitter feed and Facebook page for more content. Please consider interning, joining our staff or submitting a story