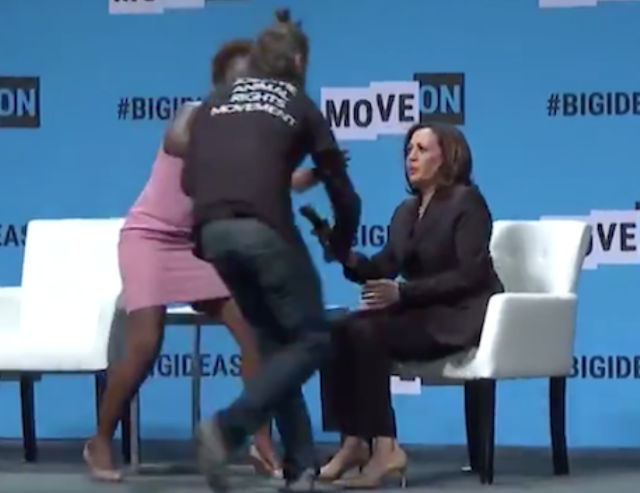 California Sen. Kamala Harris was supposed to talk about her "big idea" about the pay inequality between women and men when a man jumped on stage and grabbed her microphone.

Harris and seven other Democratic candidates for President were speaking to MoveOn's Big Ideas Forum as part of California Democrats' convention in San Francisco.
The man who grabbed the microphone, Aidan Cook, was wearing press credentials and tried to say he wanted "attention for a much bigger idea" before he was led offstage.
Cook was identified by animal rights organization Direct Action Everywhere (DxE), which issued a press release shortly after the incident.
Security jumped onto the stage as the senator calmly walked away from the protester. As the man resisted leaving the stage, Harris' husband Douglas Emhoff jumped in and wrestled the microphone from the protester.
Harris emerged a few moments later to cheers of "Ka-ma-la, Ka-ma-la"
"I'm good, I'm good, it's all good," she told the audience before continue presenting her ideas in achieving pay equity between men and women.
She said instead of having the woman employee prove that she is being underpaid, Harris, if elected President, would require the employer prove that men and women doing the same job are paid equally.

Fourteen of the Democratic candidates are in San Francisco to woo delegates and party faithful to their candidacies. Joe Biden is the only big name absent from the convention.

Although the Indian American senator was formerly the state's Attorney General and San Francisco's District Attorney, it was not certain that she has a lock on the support from the convention delegates.

However, Harris was given the prime spot as the first of the presidential hopefuls to speak earlier Saturday where she drew cheers when she renewed her call to begin the impeachment process.

"The thing I love about California Democrats is we are never afraid of a fight," she said. "And we know right now we've got a fight on our hands."
AsAmNews has Asian America in its heart. We're an all-volunteer effort of dedicated staff and interns. Check out our Twitter feed and Facebook page for more content. Please consider interning, joining our staff or submitting a story