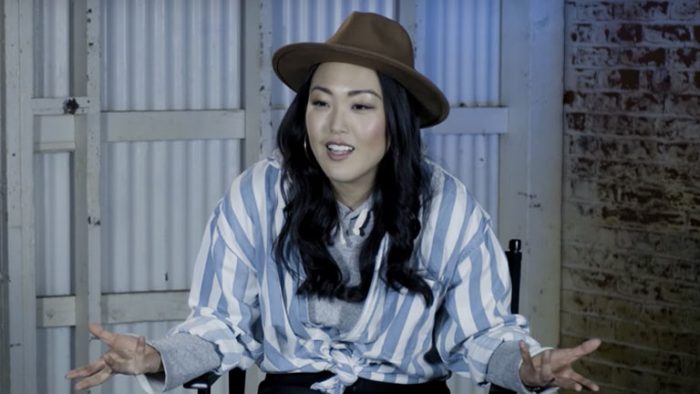 By Jana Monji
Amanda Suk was born and raised in St. Louis, Missouri and now lives in Los Angeles by way of New York City. You might know her as Amy Minoru, Nico's sister on Hulu's Runaways. Suk is also one of eight friends who are the Foodie Fam in the new 12-episode series from Stage 13 and the production company YOMYOMF, Family Style.
The series premiered on May 13 and original short (11-15 minute) episodes stream twice a week on the Stage 13 website, YouTube and Facebook. Shot in Vietnam, China and the Philippines as well as Los Angeles and Oahu, the series features guest appearances by Daniel Dae Kim, Dianne Doan, Hudson Yang, Harry Shum Jr., Ally Maki and Jon M. Chu.
Suk appears in Family Style Episode 1 ("Family"), Episode 2 ("Nose to Tail"), Episode 3 ("Night Markets"), Episode 10 ("Comfort") and Episode 12 ("Sharing").
Besides Suk, the Foodie Fam includes Stacy Fan (contributing editor at Harper's Bazaar, China and founder of the Eurasian Vogue blog); Lana McKissack (actress/singer/producer, Shameless, Criminal Minds, Transformers: Titans Return); Gilbert Galon (actor/comedian), Arvin Lee (Korean American actor/filmmaker/musician), Anthony Ma (Taiwanese-American actor/writer/filmmaker; Dear White People, NCIS: Los Angeles); Oates Wu (Chinese writer/director), and Sujata Day (actress/model/screenwriter, Insecure).
New Family Style episodes are introduced on Mondays and Thursdays with the season ending the week of June 17.
Q: What food-related programs did you watching growing up and what do you watch now?
A: Growing up, I didn't watch any food-related programs as we didn't have cable TV. However, I watched the live show of my mom throw down in the kitchen! As an adult, I've been an avid Top Chef fan since Season 1. I think I fan-girled more when I briefly met Tom Colicchio and Gail Simmons than the usual celebrity. I also love binge-watching the Great British Baking Show on Netflix.
Q: How will this program be different?
A: I think this program is different because we're not necessarily food experts but simply lovers of food. We might share persona recipes or some techniques here and there throughout the show, but the main point is shared experiences. We find a common language with our memories of these meals and discover camaraderie over the food we eat.
Q: What is your favorite episode that you've made so far and why?
A: Oh man, it's hard to pick a favorite! I might have to go with the 626 Night Market episode for a couple of reasons. I've never been to the 626 Night Market in all my years of living in LA nor have I been to any proper Night Market in my life. It was an overwhelming experience of food, people, smells, and sounds but I got to share that with my good friend and co-host, Anthony Ma, whom I've known since I first moved here. *Honorable mention: I WISH I got to do the jajjangmyeon episode, but I wasn't available that day. Even though I can eat jajjangmyeon whenever, I have very visceral memories of that dish I would've love to share in the episode from growing up w/ my mom's homemade version in St. Louis to vacations in Korea. Also, I'm very single so it would've been fun to talk about Korea's Black Day which I jokingly celebrated a couple years ago at Zzamong in Ktown.
Q: Can you tell me of any funny, weird or wonderful incidents that happened while filming that didn't make it in?
A: Basically any time the entire group is together which didn't happen often since segments are split with 2-3 of us at a time. That is when the shenanigans would fly…or basically any time Oates is around.
Q. Finally, can you give me your five favorite restaurants (and what we should order there)?
A: In no particular order:
Kobawoo (98 South Vermont Avenue # 109 # 109, Los Angeles, CA 90005): I am almost certain their lunch menu is the best deal in town! Must get the bo ssam (thinly sliced belly pork with side dishes) and any of their juns ( thinly sliced beef dipped in egg batter and fried).
Hippo (5916 1/2 N Figueroa St, Los Angeles, CA 90042): Their menu is seasonal, but I love their squash agnolotti pasta that almost tastes like a dessert pasta.
Gus's World-Famous Fried Chicken (various locations): Obviously the fried chicken, dark meat, but the fried pickles and chocolate chess pie a la mode is the way to go!
Pine and Crane (1521 Griffith Park Blvd, Los Angeles, CA 90026): I will always go when in need of my dan dan noodles fix but I also am addicted to their woodear mushrooms.
Tossup between Cahuenga General Store (5510 Cahuenga Blvd, North Hollywood, CA 91601) or Larchmont Village Wine, Spirits, & Cheese (223 N Larchmont Blvd, Los Angeles, CA 90004) for favorite sandwich in LA.
AsAmNews has Asian America in its heart. We're an all-volunteer effort of dedicated staff and interns. Check out our Twitter feed and Facebook page for more content. Please consider interning, joining our staff or submitting a story