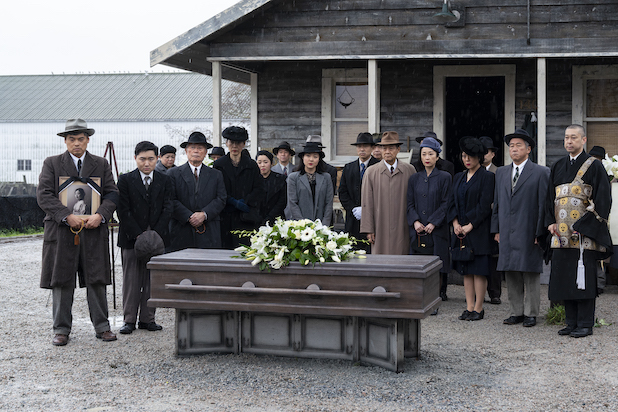 AMC released the first trailer for Season 2 of the AMC's anthology series The Terror Thursday, setting an eerie tone for the upcoming episodes.

Season 2 of The Terror, The Terror: Infamy, will be set during WWII's Japanese American Internment Camps. According to a Deadline article, this season's story will follow the character Chester Nakayama (played by Derek Mio) as he uncovers the mysteries behind a dark entity that haunts his community.

The trailer opens with FDR's speech to Congress upon the morning of the Pearl Harbor bombing in 1941. According to Deadline, FDR's speech is the inspiration behind the title of this season. In the trailer, the voice of FDR is heard referring to the day as a "date that will live in infamy," conveying an ominous aura to the plot. In the minute-long first look, the dark entity is referred to as a "shape-shifting spirit" called Bakemono, reports TVInsider.

The Terror: Infamy is set to premiere on August 12th on AMC and will consist of 10 episodes. This season's story will star Derek Mio and Kiki Sukezane as the main characters, as well as Star Trek alum, George Takei.

According to Deadline, producers first hired Takei as a consultant for the show as he spent three years of his childhood in an internment camp. However, his contribution to the story has expanded to a permanent character.

Alexander Woo from True Blood and Max Borenstein from Kong: Skull Island are co-creators and executive producers for this season of The Terror.

"This season of The Terror uses as its setting one of the darkest, most horrific moments in our nation's history," Borenstein said in a press release reported by Den of Geek. "The Japanese American internment is a blemish on the nation's conscience — and one with dire resonance to current events. I'm thrilled that AMC is giving us the chance to use that darkness as the inspiration for what I hope will be a trenchant, terrifying season of TV."
AsAmNews has Asian America in its heart. We're an all-volunteer effort of dedicated staff and interns. Check out ourTwitter feed andFacebook page for more content. Please consider interning, joining our staff or submitting a story.