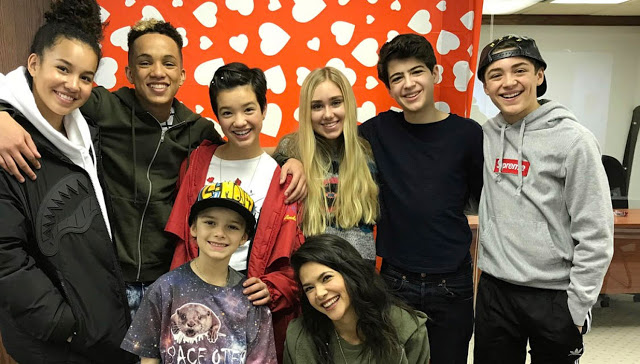 Its too bad that Andi Mack was aired only on the Disney Channel because it deserves a bigger audience. In its too-short three seasons, about average for a Disney show, the coming-of-age series dared to tackle topics other shows aimed at the crucial so-called tween years steered away from.

Not only did the show center around an Asian American family, it also made history by featuring an openly gay character.
Along with including a gay character, Andi Mack excels in other areas of representation and inclusion as well. As one Twitter user pointed out, it includes story lines on anxiety, Jewish culture, teen pregnancy, learning disabilities, and much more. This was no accident; Disney is well aware of the need for messages of inclusion.
As spokesperson for the network told Variety, "Andy Mac is a story about 'tweens' figuring out who they are. (showrunner) Terri Minsky, the cast and everyone involved in the show takes great care in ensuring that it's appropriate for all audiences and send a powerful message about inclusion and respect for humanity."

That was the key: Respect. The series showed that relationships don't have to be poisonous; that you don't have to bring anybody down in order to feel good about yourself; and the value of real friends who love you for who you are, not what you aren't.

The cast has known since last year that the season they were taping was the last one. It seems to be Disney policy: Don't let the shows outgrow its audience. The popular Lizzie McGuire and Boy Meets World met similar fates.

Peyton Elizabeth Lee, who plays the titular Andi Mack, gave Hollywood Life an idea what the final season is about. She said that as the relationships fall apart "the characters start to see what really matters and really start to understand that undying love that's at the foundation of all the relationships. So through those struggles and the hardships in the relationships, they really find the heart and soul of every one of the relationships." She also revealed that fans will see "a lot of the characters developing relationships with new characters."
In other words, the show tells its youthful audience that life isn't like a TV show where everybody lives happily ever after. But life's ups and downs are only temporary and one can survive and life goes on.

"I really feel like Andi Mack has done such a good job of letting kids know that it's really okay to be themselves," says Lilan Bowden, who plays Andi's mother. "I really hope that we remind people that hardships mean you can be okay with yourself, grow up, and be okay with your circumstances. I hope these last episodes give fans the feeling of acceptance and love."

If only a show like Andi Mack was around when I was in 6th and 7th grade. All the awkwardness and emotional roller coasters of those years might have been easier to take.
AsAmNews has Asian America in its heart. We're an all-volunteer effort of dedicated staff and interns. Check out our Twitter feed and Facebook page for more content. Please consider interning, joining our staff or submitting a story