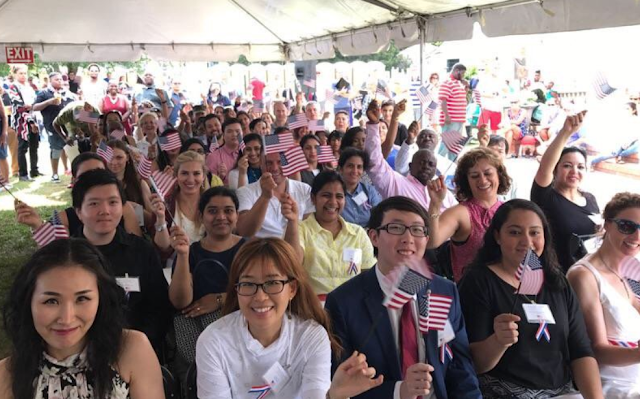 This July 4th weelend, as the United States celebrates it's Independence Day, and as thousands of new American citizens are sworn in on aircraft carriers, auditoriums, in courtrooms,museums, gyms and sporting events around the country, the Trump administration is readying a massive effort to deport thousands of other immigrants, refugees and visitors.

Donald Trump, stung by his quest to include a citizenship question on the Census form and the increasing pressure to improve conditions at detention centers near the Mexican border, swore that there will be a hike in ICE raids to deport "millions" of people after the July 4th holiday.


"We will be removing large numbers of people… starting sometime after July 4," Trump said, having earlier noted that the deportations would begin "unless we do something pretty miraculous." U.S. Immigration authorities, under orders from Trump, had earlier announced plans to launch a sweeping effort to deport recently arrived undocumented families. "Even among the legal Asian immigrant population, anxiety levels are going up," Karthick Ramakrishnan, chair of California's Commission on Asian and Pacific Islander American Affairs (APIA), told Public Radio International last month. "You have policies that are targeting even legal permanent residents now."

For many Asian American immigrants, the deportation drive has already begun.

Indeed, as to signal the insincerity of the administration's intentions, A planeload of Cambodian American deportees landed in Pnnom Penh, Cambodia's capitol, as the US began Independence Day festivities.

At least 37 Cambodian refugees were deported back to Cambodia on July 3. Most of them were brought to this country by their families who sought asylum in the United States decades ago, fleeing the Khmer Rouge or because they fought for the U.S. in the Vietnam War.

The Acting Director of ICE, Mark Morgan, said the agency would target for deportation families that have received a removal order from a US immigration court. Morgan said ICE wanted to deport undocumented families who had recently arrived in the U.S. to discourage more Central Americans from arriving. Trump had tweeted, before the formal kickoff of his 2020 re-election campaign, that ICE would begin removing "the millions" of undocumented immigrants in the US.

The Cambodian Americans were easy pickings for Homeland Security. Most of them had been in detention since March.
1,900 Cambodians in the United States are facing the same fate. ICE says 1,400 have broken the law and have served their time. Many of the convictions were minor offenses, such as possession of small amounts of drugs, being part of a criminal gang as youngsters, or driving under the influence.
The number of deported Cambodian immigrants has increased 279 percent from 2017 to 2018.



Although the mainstream perception of people subject to deportation are from south of the border, the fastest growing group of undocumented immigrants come from Asian countries, according to the Pew Research Center. More than tripling in 15 years, Asians make up for the fastest-growing undocumented group in the United States. Mexicans, in comparison, grew by only 21% in the same period. To put that figure into perspective, undocumented Asians make 16% of all undocumented in the country. Additionally, this means one of every seven Asian immigrants is undocumented, according to AAPI Data.

The operation is expected to target up to 2,000 families facing deportation orders in as many as 10 U.S. cities, including Houston, Chicago, Miami, San Francisco and Los Angeles, according to a media report.

A spokesman for the U.S. Immigration and Customs Enforcement (ICE) declined to comment, saying: "Due to law-enforcement sensitivities and the safety and security of US Immigration and Customs Enforcement personnel, the agency will not offer specific details related to enforcement operations before the conclusion of those actions." House Speaker Nancy Pelosi, the country's top Democrat, responded, saying, "The president's new threat of a mass deportation dragnet is an act of utter malice and bigotry, designed solely to inject fear in our communities."

AsAmNews has Asian America in its heart. We're an all-volunteer effort of dedicated staff and interns. Check out our Twitter feed and Facebook page for more content. Please consider interning, joining our staff or submitting a story