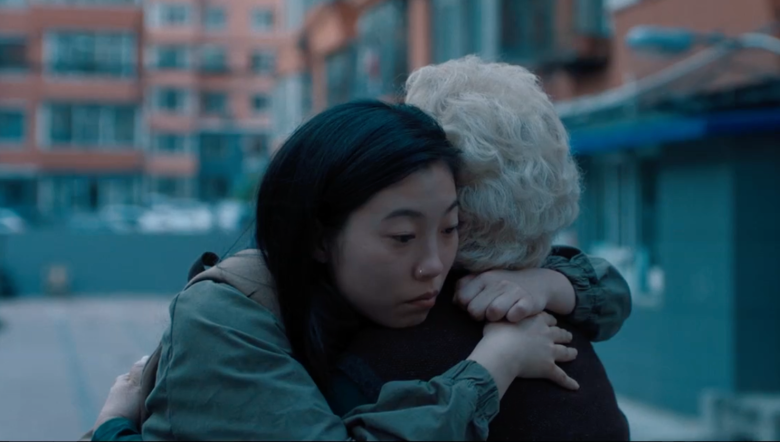 By Jana Monji
Set in both the United States and China, The Farewell features an Asian cast, which over the course of the filming, grappled with the differences between their Asian and Asian American identities.
Lulu Wang's The Farewell is a personal story that is based on an actual lie and begins with innocent lies–a grandmother, Nai Nai, telling her granddaughter, Billi, in a cellphone conversation one lie and her granddaughter tells her another–both to quell further inquiries and prevent the other from what they believe is needless worry. We keep secrets from each other, but some people live in secrecy. To a certain extent, Asian Americans have hidden lives that Wang's film exposes.
The Farewell stars Awkwafina in her first dramatic role as Billi and Shuzhen Lao as the grandma Nai Nai. Tzi Ma and Diana Lim play Nai Nai's parents.
In interviews just before Wang was awarded the Sundance Institute's Vanguard Award on June 26, the cast, along with Wang, talked to AsAmNews about life in between being Asian and American. "
Wang explained that "when I was approaching this film about my family" she was really making "a film about family, about loss and about grief and about guilt for leaving (China)" because "we don't look at ourselves every day and think I'm Asian. How do I do something really Asian today." She added, "The story is about an Asian American family because that is the texture of my life." It's a life that also navigates between being Chinese and being American.
Awkwafina (aka Nora Lum) is half Chinese by way of her father and half Korean through her mother. Her mother died when she was only four.
Awkwafina had been back to both Korea and China before to visit family and this helped because, she explained, "I know what it's like to grow up in this country where you're essentially being told your whole life 'to go back to China' and you go back to China and then you don't really fit in either. That experience alone can be very isolating. When stories like this are told and people resonate with it, you feel less alone. Our whole lives, any dash American , we have to negotiate the life that's built at home versus our school life and our friends. It's almost like a secret."
"My grandma raised me so I'm extremely close," said Awkwafina. She wanted to do this script, not caring what genre it was because "I related to this character so much."
"I know what it's like to meet someone that you might not be able to understand but your love is not shown through words" and "that's how I came to feel very close to my movie family. It did feel like I was meeting an extended family abroad." Yet going back to China also brings up other issues. "
She did study in China just before the 2008 Beijing Olympics where she learned the foundation and that made her linguistic task for the movie less difficult, but she said, "I didn't want it to be a situation where people were giving me a phrase that I didn't understand and I was just saying it back. I thought it was very important for me to understand what I was saying." Yet in Changchun where a lot of the scenes were filmed, "not a lot of people speak English and eventually Chinese becomes a skill of survival." While she confessed to being a "little insecure" when she first arrived in China for filming, and "when I first got there people would laugh." She added, "They just don't understand where I'm from when I speak Chinese; they just think I'm Korean." But her film mom helped, giving her tonal lessons and there was also a production assistant specifically for aiding Awkwafina in her linguistic efforts, too.
Because Awkwafina didn't speak Chinese well, Wang decided to change the script, "simplifying a lot of the Chinese for her," but also using English spoken between Billi and her parents as a means of illustrating the difference between Billi's American life and how things are different in China. However, when Billi's speaking with her grandmother, she has to speak Mandarin.
While much of the story is in Mandarin Chinese, "my parents and I speak Chinglish, English with lot of Chinese words thrown in," said Wang.
Wang also isn't totally fluent in either the language or the culture. "I go back there and I don't speak the language enough to understand the news, to understand all the conversations. I miss out on a lot of the culture because I don't understand jokes." 
RELATED: Lulu Wang's The Farewell A heartfelt and comedic tribute to family
For Wang herself, "the interesting thing for me every time I go back to China it is this interesting marriage of the familiar and the foreign. The familiar being memories, nostalgia and dreams and stories that you've heard from family." She confessed, "I sometimes yearn to go back home–whatever that means–to my childhood, to my idea of a place and that place doesn't exist any and maybe never existed."
That negotiation is somewhat different for those who were born in Asia. Tzi Ma (Rush Hour and The Man in the High Castle) and Diana Lim both were born in Asia. Lim in Mainland China and Ma in Hong Kong. Lim moved to Australia and Ma to the US. Lim said, "I understand the mom 120 percent" because she left China at about the same time. It is rare to have the chance to play someone who is "very elitist, very educated and bilingual" and "she's beautiful" in so many ways. She is also a woman who "loves her husband unconditionally." That's a rare trait. Lim said the family was "so generous, so accessible" and told them "all about their life stories" because they "wanted us to get the characters right."
The mother, being, like Lim, a first generation immigrant is "like a floating boat" because you "don't belong anywhere. You don't have a homeland." Wang's mother, like Lim was successful in their homeland, but left and had to start all over again.
Ma also noted that it is different for the first generation because they understand what it means to be part of the majority. Ma said when "you're the majority culture and you become a minority you realize the attitudes are different, the expectations are different." When Ma came to the US, he was "not shy about anything" while he characterizes other minority kids as "more confined." And yet he admits, "I got in trouble because I felt I am the man. When they try and marginalize me, I just think Chinese are one quarter of mankind." For his character, Ma explained, "the dad is very Americanized. He was a diplomat, speaking Russian and Chinese and English fluently. He is a very confident man." That feeling is very different from "American-born Chinese males who worry about whether they're sexy or not, whether they're manly or not." The father was "so confident, so charming and so easy to work with" because "he knows what he's about."
The Farewell comes at a good time for Asian American awareness in the general public consciousness and rides in the wake of last year's crop of Asian American cinematic high profile accomplishments. The success of Crazy Rich Asians has brought a new awareness of something outside of the racial binary of Black and White, something that Awkwafina characterizes as "absolutely momentous." CRA wasn't the only Asian American film that made waves last year. Co-directing husband and wife team Jimmy Chin and Elizabeth Chai Vasarhelyi won an Academy Award for their documentary on Alex Honnold, Free Solo. Bing Liu, who Wang chose to present her Vanguard Award to her at the Ace Hotel in Los Angeles, was also nominated for an Oscar last year for his autobiographical Minding the Gap.
More opportunities may mean more Asian stories. Lim will be in a project where despite her obvious accent, she's been given a leading role where her lines are 95 percent English. "They trusted me instead of an ABC pretending they have an accent." It's a role where she as a first generation immigrant is "more connected." Lim and Ma both felt that more doors are opening. Awkwafina noted her Asian actor friends are getting more auditions and hopes that will make way for more Asian American stories to be told. Then not only will the secrets lives be revealed, but Asian American stories will become part of the fabric of American cinema.
"The Farewell" is already garnering a lot of positive critical attention and has been doing well at film festivals winning the Atlanta Film Festival, the Cintetopia Film Festival, the Sundance Film Festival: London and the VC FilmFest Audience Awards. It opened in select markets this weekend.
AsAmNews has Asian America in its heart. We're an all-volunteer effort of dedicated staff and interns. Check out our Twitter feed and Facebook page for more content. Please consider interning, joining our staff or submitting a story