The big reveal that Marvel picked Simu Liu to play Shang-Chi, wasn't the only news coming out of ComicCon last week that AAPI fans should be excited about.


Last Spring, when it was announced that Isa Briones would be cast in CBS-All Access' Star Trek: Picard, we didn't know what kind of role she would play. It could have been one of the crew members who always linger in the background or a Red-Shirt but after seeing the trailer for the new show, it turns out that the Filipina American's role is a pretty significant one.


We still don't know what her relationship is with Jean Luc Picard, a role from Star Trek: Next Generation reprised by Sir Patrick Stewart, but it appears she's the McGuffin, the instigator, the one who gets the story going, the reason Picard is going to give up his retirement at Chateau Picard. Her character, Dahj, apparently needs to be protected and she found Picard, someone she's had history with and who she could trust.


So, who is Dahj? A lot of interesting theories have arisen among Trekkers about the identity of Dahj: from being the daughter of Data (the android who gave up his existence to save Picard) to being a reincarnation of the Borg Queen.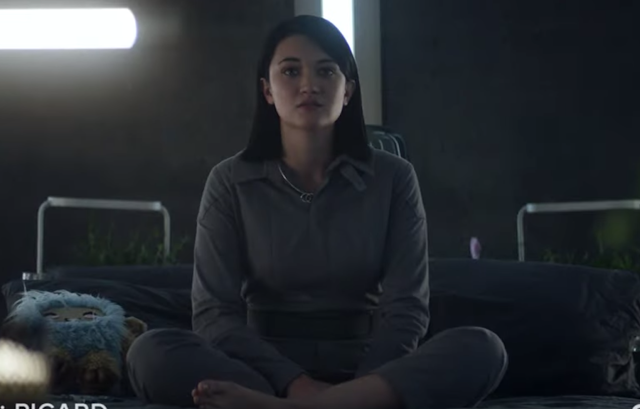 In the first trailer debuted at ComicCon, she shows up at Picard's idyllic vineyard 20 years after he retired from Star Fleet.
"Everything inside of me says that I'm safe with you," she tells him.
Before he can answer her, the camera cuts away leaving fans with questions.
Later on in the trailer, she shows she has some serious (superhuman?) fighting skills as she effortlessly takes out a group of attackers while Picard watches on.
Picard quickly grasps the significance of helping this young woman and is well aware of the dangers she faces if she is captured by the wrong people.
Picard calls on Starfleet for its help but he's ignored. "If she is who I think she is, she's in serious danger," he warns someone.


The mysterious Dahj is a major player. I wonder if she speaks Tagalog?
The director of the upcoming The Eternals, Chloe Zhao, has assembled a powerful and diverse cast to star in the Marvel flick about a race with superhuman powers. The brightest star to join the Marvel universe is Angelina Jolie. The film, set to debut in Nov. of 2020, will also star a buffed up Kumail Nanjiani as one of the 3,500-years -old Eternals.


Unfortunately, Warner Bros, the studio that drew raves in past ComicCons was missing this year! So we didn't get to see anything about the new Wonderwoman 1984, Aquaman 2 or The Birds of Prey, the latter of which will introduce Cassandra Cain, AKA Batgirl, played by Filipina American Ella Jay Basco.
It was an emotional farewell to Agents of SHIELD which is currently filming the finale for its final season. Chloe Bennett and Ming-Na Wen, who play bad-ass agents, proved you can have more than one Asian American in a cast, a rarity when the show debuted seven years ago.
AsAmNews has Asian America in its heart. We're an all-volunteer effort of dedicated staff and interns. Check out our Twitter feed and Facebook page for more content. Please consider interning, joining our staff or submitting a story