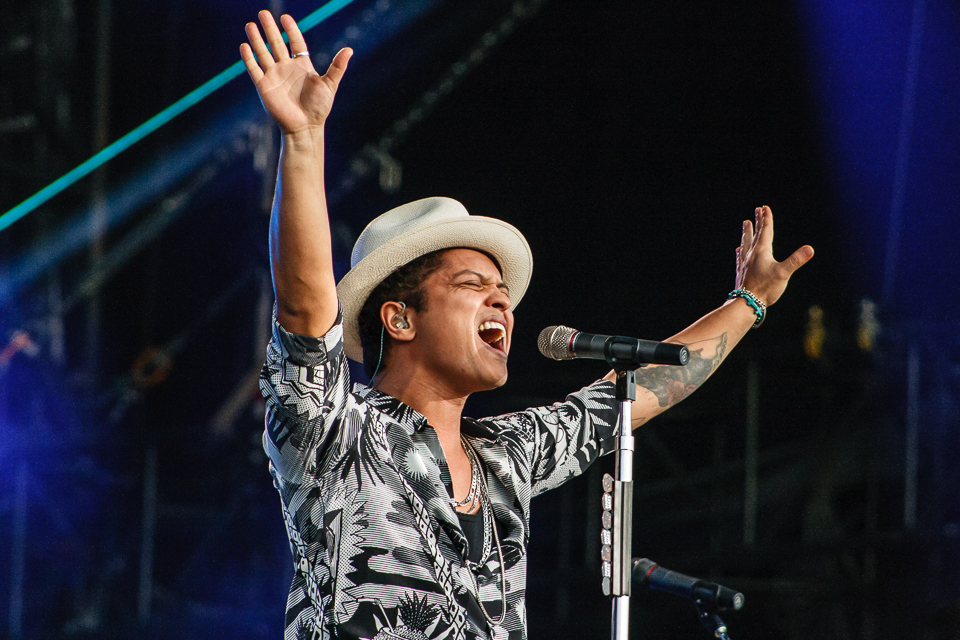 Photo from Daniel Gregory via Flickr Creative Commons (CC BY-NC-ND 2.0)
Bruno Mars is one of the latest high-profile celebrities to speak up against the Thirty Meter Telescope (TMT) project proposed for construction on sacred land, reports Honolulu Star-Advertiser.
Mars, whose mother immigrated from the Philippines to Hawaii, posted on Instagram in support of the protestors opposing construction on Mauna Kea, a mountain sacred to Native Hawaiians.
And on Wednesday, Aquaman and Game of Thrones star Jason Momoa visited the protest at the base of Mauna Kea and spoke to the crowd. Momoa, whose father is of Native Hawaiian ancestry, has been extremely vocal on social media about his stance on the TMT project, with his posts garnering lots of attention, according to The Hollywood Reporter.
Both Mars and Momoa were born in Hawaii; Mars grew up in Honolulu.
Momoa isn't the only big celebrity to make a visit; just last week, Dwayne "The Rock" Johnson joined the protest, releasing a six-minute Instagram video of his trip.
The construction of the telescope has caused controversy since 2009, and state protests have been going on since 2014. The ongoing protest is taking place in front of the access roadway to the summit to prevent construction crews from entering.
On Tuesday, Hawaii Governor David Ige withdrew an emergency proclamation for Mauna Kea and told press that the state is giving the project a two-year deadline extension to begin construction.
"Governor Ige has admitted that he underestimated our strength, unity, and broad public support," protesters said in a statement, according to Hawaii News Now. "Our numbers continue to grow and his ability to oppose his own people is increasingly becoming less and less justifiable. Ige's rescinding of the emergency proclamation illustrates how he can no longer claim that we are threatening public safety. We are the public."
"We continue to seek and find a peaceful solution to move this project forward," said Ige. "For the safety of all involved, we do believe we want to deescalate things."
Supporters of the project point out the significant contributions to science and the jobs it will bring.
AsAmNews has Asian America in its heart. We're an all-volunteer effort of dedicated staff and interns. Check out our Twitter feed and Facebook page for more content. Please consider interning, joining our staff or submitting a story.