By Louis Chan, AsAmNews National Correspondent
An activist actor and two leaders who have put themselves at risk to speak out against injustice spoke before hundreds of journalists this weekend at the annual Asian American Journalists Association convention held this year in Atlanta.
"We hold the powerful accountable," said Maria Ressa, the CEO of Rappler on trial for cyber-libel charges in the Philippines for what she believes is for Rappler's critical coverage of President Rodrigo Duterte.
Ressa worked as a bureau chief for CNN from 1985 to 2005 as a bureau chief in both the Philippines and Jakarta. After that, she headed the news division at ABS-CBN.
"Know the lines," she said. "You don't know who you are unless you are forced to defend it."
Rep. John Lewis (D-GA), who spent many of his early years alongside Martin Luther King, told CBS correspondent and anchor Elaine Quijano during an on-stage interview that he decided at the age of 16 that he would get involved in the civil rights movement.
The 79-year old representative recalled he had met Rosa Park and King a year earlier.
He said both "encouraged me to get into good trouble, necessary trouble. I've been getting into trouble ever since," he said.
In 1965, Alabama State Troopers cracked his skull as he chose to stop and prey after refusing orders to disperse while leading a march of 600 people from Selma to Montgomery in support of voting rights.
"I thought I saw death," he said. "I thought I was going to die."
Instead young protesters picked him up and carried him to safety. Thousands would march a week later across the same bridge in support of his efforts.
George Takei has made it his mission to share his experience and those of 110,000 other Japanese Americans incarcerated during World War II. The government forced Takei, then 5, along with his parents behind barbed wire in the Rohwer War Relocation Center in Rohwer, Arkansas.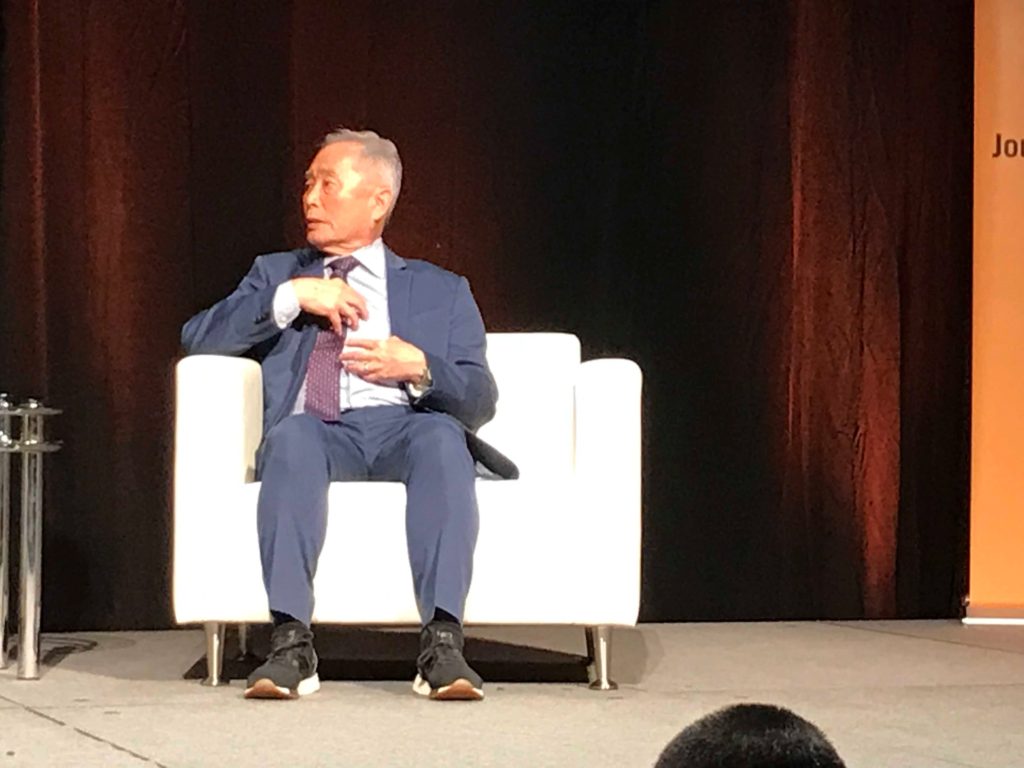 "The incarceration of Japanese Americans is an important chapter of American history, he said during a conversation with ABC anchor and correspondent Juju Chang. "With this knowledge of enough Americans, we will not allow this endless cycle of injustice to minorities."
His new cable TV series, The Terror: Infamy premiers on AMC August 12. Set in a Japanese American incarceration camp, The Terror is a fictionalized account incorporating elements of the horror genre.
"The horror is organic to story telling," said Takei, bringing in rituals of the old country and the ghosts story. That amplified the terror. It's central to the story telling."
He said his new graphic novel, They Called us Enemy, is a book of hope.
Hope was also a theme conveyed by both Ressa and Lewis.
"Young people give me hope," said Lewis. It's the children and women. We just got to educate a lot of men. We must change. We've got to stop the madness."
"Fear is our worst enemy," warned Ressa. Touch it. Hold it. Embrace it. Once you do that, nothing can stop you."
AsAmNews has Asian America in its heart. We're an all-volunteer effort of dedicated staff and interns. Check out our Twitter feed and Facebook page for more content. Please consider interning, joining our staff or submitting a story.