AsAmNews has learned that at least nine Cambodian refugees have been detained this week by Immigration and Customs Enforcement officers nationwide, even as protestors gathered in at least a half dozen cities.
"We have had ICE home raids targeting Cambodians in California and across the country this week," Anoop Prasad of Asian Americans Advancing Justice, ALC told AsAmNews.
ICE agents made additional arrests when Cambodian refugees reported for their regular check in.
The Southeast Asia Resource Action Center tells us that two have already been detained in San Francisco, one in Fresno, CA, one in Tacoma, WA, one in Rhode Island and one other in Northern California. AsAmNews has also learned two others were detained in Burlington, MA. More detentions are expected in the coming days and weeks.
"Lawful permanent residents with orders of removal for "criminal" convictions are subject to mandatory detention and deportation," said Katrina Dizon Mariategue of Southeast Asia Resource Action Center in Washington, DC. "No due process rights, unfortunately unless they are able to get a motion to reopen their case which is very difficult– this is a policy that SEARAC has been advocating to change," Mariategue said to AsAmNews.
In Sacramento, some 120 protestors gathered yesterday in front of the State Capital building and ICE offices. Similar protests were held in Oakland; Boston; Warwick, RI; Tacoma, WA and Burlington, MA.
RELATED STORY: Two Cambodians Detained in MA by ICE, Four Released
A coalition of Asian American groups have joined forces to fight the increase of deportations under Trump. Those groups include Asian Americans Advancing Justice | ALC, Asian Prisoner Support Committee, Southeast Asia Resource Action Center, Southeast Asian Freedom Network, and Vietnamese Anti-Deportation Network.
According to those groups, there are nearly 16,000 Asian Americans living in the United States with final deportation orders. 2,100 are Cambodian Americans. The deportations of Cambodian Americans have increased 279% under Trump between 2017 and 2018. Overall, there have been a total of 900 Cambodians deported.
"For too long, Cambodian families have endured state-sponsored violence at every level of our resettlement in the United States," said Nathaniel Tan, lead anti-deportation organizer with Asian Prisoner Support Committee. "From the carceral system to the immigration system, our community has been given no grace. We are saying not one more and keep our families together. End deportations."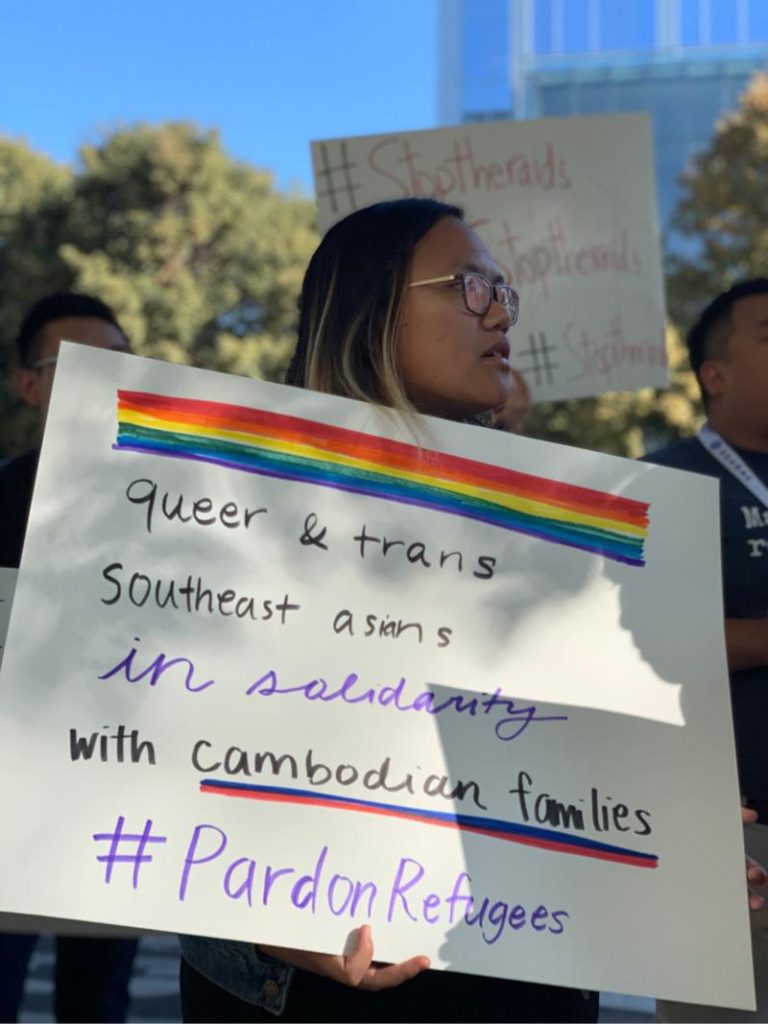 "Detentions and deportations are unjust and inhumane, said Montha Chum, national co-director of SEAFN and co-director of ReleaseMN8. "My brother was detained for a year while ICE tried to deport him. It devastated my family. US foreign intervention into Cambodia was partially responsible for the rise of the Khmer Rouge, one of the worst genocides in global history. And yet, the United States continues to detain and deport Cambodian and Southeast Asian America refugees to countries that many of us have escaped from and that some have never known."
ICE continues to maintain that no one is targeted because of their ethnicity.
AsAmNews has Asian America in its heart. We're an all-volunteer effort of dedicated staff and interns. Check out our new Instagram account. Go to our Twitter feed and Facebook page for more content. Please consider interning, joining our staff or submitting a story